Browse using the new Vinous website now. Launch →
Printed by, and for the sole use of . All rights reserved © 2015 Vinous Media
Some Great Reward: South Africa
Selected Producer Profiles
BY NEAL MARTIN | AUGUST 29, 2017
Badenhorst Family Wines (Swartland)
It is always a pleasure to visit the irascible Adi Badenhorst at Kalmoesfontein, his farm in Swartland. There is something a bit chaotic about the place with demijohns scattered here and there. Badenhorst developed a wonderful infused vermouth that has been a great success. I remember tasting the assorted glass demijohns where he was experimenting with various botanical infusions. Of course, Badenhorst was a pivotal figure in the Swartland Revolution and remains one of its most familiar (hirsute) faces. With his manner so relaxed he might as well be lying down, not to mention what sometimes feels like an "anything goes" approach to winemaking, he is easy to underestimate but there is a sharp brain at work here and a talented winemaker. His joie-de-vivre is matched by business acumen that enabled him to transform and expand his winery. "We bought the adjacent farm and also lease another 18 hectares," he explained. "We have 41 hectares of old vines and the oldest was planted in 1952. So, now we have 70 hectares in total." I asked him about the 2016 vintage. "The vintage has good acidity, making tighter wines, whilst the 2017 has slightly lower acidity and more expressive open fruit." Readers should watch out for a video that I made with Badenhorst during my visit that will hopefully give you a flavor of the man. His entry-level Secateurs range has been hugely successful in both domestic and overseas markets, here the 2016 Syrah is a standout. His 2017 Golden Slopes Chenin Blanc from granite soils and an excellent Cinsault from the Ramnasgras vineyard smote me. The Shiraz-dominated 2016 Family Red Blend is excellent and I quite enjoyed the chalky, almost austere finish.
Alheit Vineyards (Hemel-en-Aarde)
I first met Chris Alheit back when his maiden 2011 Cartology was in barrel, introduced by Peter-Allen Finlayson whose Crystallum project was just getting off the ground. The two rented the same wine facility together with John Seccombe of Thorne & Daughters. The winery has certainly expanded since I was last here with more space at Chris' disposal. I find him in typically philosophical mood. "I have the feeling that chapter one is drawing to a close and 2017 marks the turning of a page," he explains. "The 2017 has been the realization of the last few years. When we put 2017 Cartology together I was thinking it would be the last vintage. My wife and I talk a lot about making "origin" wine. I've thought a lot about Cartology that tends to be graded down because it is Western Cape [i.e. a multi-regional blend.] We learned a lot and learned about the vineyards that has helped us get to this point. We have plans to plant up in the mountains in Ceres. I got to know a farmer who planted Riesling for me in 2015. It's a totally different climate. I believe we are just scratching the surface with the Cape. Ceres is very exciting. We now have five Chenins on different soils and keep the same approach: never acidify and never manipulate. I like a lot of fine solids in the ferments because they add dimension and structure and amplify the acidity. I like tannins in white – it gives them more-ishness." Prior to my visit there was a great deal of hubbub about the quality of Chris Alheit's 2017s and the speculation was well founded since these are stunning, quite cerebral wines. The quality starts from the labels, beautifully drawn and individually evocative of where the vines are located. From small beginnings, in just seven years he expanded his portfolio as he found new sites (with the assistance of old vine forager, Rosa Kruger) each with their own expression. The wines do need time to open up and I would even go as far to advise decanting them for an hour or two. These come highly recommended. Vinous readers can expect a more in-depth article on Alheit with a complete vertical of all the Cartology wines to date.
Some Vinous readers may have seen my shot of the vineyards at Ataraxia one early morning, the fog blanketing the Upper Hemel-en-Aarde valley under the refulgent sun. The tasting room stands alone against a stunning mountainous backdrop and this is where I met with owner and winemaker Kevin Grant (who has a passing resemblance to British comedian Harry Hill.) Kevin, who enjoyed a long stint as head winemaker at Hamilton Russell, is passionate about terroir and emphasizes that he sees himself not as a winemaker, but a "soil farmer". "This is my 28th vintage," he tells me. "The 2005 was the first vintage at Ataraxia and the 2018 is perhaps the most enjoyable. The un-wooded Chardonnay comes from very free draining granite and sandstone soils, whilst the wooded Chardonnay is from vines on Bokkeveld shale that are stonier with low vigour. The wines spend around five months on the lees in stainless steel vats, the Chardonnay is barrel fermented. Since 2016 was a warm year, for the first time there is no malolactic fermentation." Kevin's Chardonnay has always been the standout for me, unequivocally one of the best in South Africa and very Burgundian in style, seriously up there at Premier Cru level.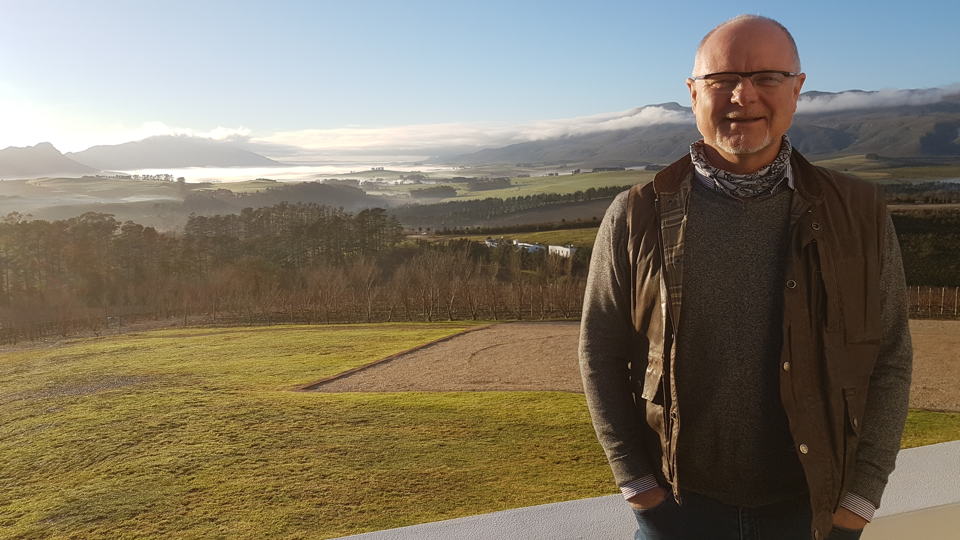 Kevin Grant, winemaker at Ataraxia on a blissful sunny morning in Hemel-en-Aarde
Boekenhoutskloof (Franschhoek/Swartland)
Boekenhoutskloof is another of the few wineries of this scale that has undergone a lot of investment in recent years. I took a brief look at their barrel cellar, accessed through a long tunnel with winemaker Gottfied Mokke. "The first bottling that was done in the new cellar was the 2015," he told me as I surveyed row upon row of barrels and several tiers high. "They are based on the OXO(2) revolving system so they don't have to be moved to be racked. This has enabled us to shorten the élevage. The wines used to spend longer time in oak, but it has been shortened from 24 to 18 months. We installed a new bottling line with longer, 54mm corks as there is more emphasis on bottle maturation." Like many in the Cape, they added more strings to the arrow by installing various vessels for fermentation. "We moved all the fermentation vats to concrete so that the size corresponds to one pressing so we can vinify parcel by parcel. With respect to the Syrah we no longer use barriques, but only 2500-litre Stockinger foudres and 600-litre barrels. Also, we now do not add SO2 after malolactic, instead keep the wine at low temperatures to maintain freshness. We want to retain more tension and purity and impart a fresh aspect to each variety." Boekenhoutskloof has certainly changed in terms of style in recent vintages, for the better in my opinion, as there were occasions when I felt that the wines were too heavy, a little over-egged in the winery with long periods in oak. Nowhere is that change more evident than in the hugely successful "The Chocolate Block", whose source has relocated from various regions to only Swartland. In fact, when I discus this excellent wine with owner Mark Kent, I tell him how the style of the wine no longer reflects the images that the name evokes.
Winemaker Gottfied Mokke and owner Mark Kent pose outside their modern artwork at Boekenhoutskloof, underneath which lies their winery
Bouchard Finlayson (Hemel-en-Aarde)
The other stalwart of Hemel-en-Aarde is neighboring Bouchard-Finlayson. I meet with winemaker Chris Albrecht whose first official vintage was in 2017, although he has worked here since 2011. I ask him what his plans are. "I don't think stylistically we need change, but I would like to work a little more elegance into the wines, so I looked into the pressing programs for the reds, bottling at higher sulphur levels. We bought a new bag press that works like a horizontal basket press. From 2015 we have started upping the de-leafing programs." This is one estate that I feel has been passed by others in its slipstream and I hope Chris can give it the boost its needs. These are good, solid Hemel-en-Aarde wines yet they do not excite as much as they could, perhaps a little conservative in style. But the 2016 Galpin Peak Pinot Noir is promising, the use of whole bunch nicely used, so hopefully there will be more like this from Chris.
Cape Point Vineyards (Constantia)
Raindri Visser had big shoes to fill when she took over from Duncan Savage as winemaker at Cape Point Vineyards a couple of years ago. They became one of the leading exponents for South African Sauvignon Blanc and that looks set to continue under Riandri. We take a short trip up into the vineyard, the vines offer a spectacular vista over the Atlantic that maintains a cool maritime climate here in Constantia. Indeed, you could feel how the vines are exposed to whatever weather fronts cross in from the ocean, perfect conditions for Sauvignon Blanc that prefers cool climates. "The 2017 vintage saw a slightly warmer growing season than 2016," Riandri told me. "Then in 2018 we managed to get the grapes in at low sugar levels with natural high acidity. The water shortage only affected the size of the berries, which means we had good concentration. It was a long and stretched out harvest, picking the Sauvignon Blanc over two months as bunches, as different blocks did not all ripen in one go. That was good for the winery as it did not put so much pressure on at one single moment." There has been a slight re-jigging of the sourcing and portfolio at Cape Point Vineyards. "We have started working a farm in Durbanville since the end of 2016, managing all the viticulture that goes into the Cape Town Sauvignon Blanc. Noordhoek comes from parcels only on the Cape Point estate and replaces the old Cape Point Vineyards Sauvignon Blanc. The Reserve comes from three selected parcels located on sandstone and granite soils on the estate. They are picked in different stages with multiple passing in each block, then matured in 600-litre used French oak barrels for 15 months. In 2016 the Reserve contains 9% Sémillon but in 2017 it is just 3% in order to distinguish it from the Isleidh, which will have more Sémillon. We have also started using amphora in an oxidative way with an open top, the wine protected by CO2. I like the waxy and oily notes from the Sémillon. I don't mind oxidizing the Sémillon as it gives fattiness and lanolin. I would like to aim for 30% Sémillon in the blend as it was used in 2011 and 2012." I must say, I really found much to admire in these wines. They are generally extremely well priced for the quality inside the bottle and I think the move towards greater Sémillon in the Isliedh is one that will engender a more complex and texturally satisfying wine.
Jean-Philippe Colmant is originally from Belgium where his job was far away from producing sparkling wine. "My business was importing tomb stones," he laughs at the mere thought of his previous vocation. "I came to South Africa in 2002 when this property was on just bare land. In 2004 I decided to design and build one of the first wineries that would exclusively produce Méthode Cap Classique. I was inspired by the Champagne model and I wanted to replicate it here. We are quite small and bottle just 50,000 bottles per year and I intend to stick to this limited size." I ask where he sources his fruit. "The grapes are sourced from ten vineyard sites over three regions: 50% Franschhoek, 30% Elgin and 20% Robertson, just Pinot Noir and Chardonnay. My big philosophy is towards blending and only Non-Vintage wines. I am a strong believer in Reserve wine and I have never made a vintage." Asking about the style he seeks he replies: "I like a precise and clean style. Lanson was a model when I started, even though now they do malolactic whereas I want to preserve natural acidity."
Under Swiss-born winemaker JC Martin (no relation), Creation Wines have gone from strength to strength in recent years. The focus is mainly, though not exclusively, upon Pinot Noir and Chardonnay, the former undergoing more wild ferments with some inoculation with respect to the latter. Their 2017 Emma Pinot Noir, special barrel selection limited to around 750 bottles is well worth hunting down but if I had to choose, it is JC's Chardonnays that really catch my eye in 2017, whereby even the regular Chardonnay sports wonderful lip-smacking salinity. For visitors to Hemel-en-Aarde, lunch or dinner in their winery restaurant is highly recommended.
Hamilton Russell Vineyards (Hemel-en-Aarde)
Hamilton Russell is probably the most well known estate in Hemel-en-Aarde, not least because it was one of the pioneers, debuting with the 1981 vintage. Anthony Hamilton-Russell gives me a quick tour of the estate in his beloved Defender Jeep and remarks the pittance his father paid for the land back in the 1970s. Of course, things have moved on a great deal since then. One of their biggest challenges has been lead-roll virus for which there is only one real solution – dig up the vines, cleanse, leave fallow and then replant with virus free rootstock. "We have replanted a lot of vines on the estate," he explains. "Since 1991 everything has been replanted and we are now on the second round. When I took over everything was virused and we wanted to move away from a Swiss Champagne clone. We now also pull up blocks next to virused parcels to stop its spread and this is much more effective than chemical treatments. There are around 14-hectares of young vines but they behave like old vines and the average age is now 20 years." There is a sense of transition here at Hamilton as replanted vines begin to mature, though it is never going to be overnight. This has made their wines a little inconsistent in recent years, more so the sensitive Pinot Noir than the Chardonnay. The 2017 Chardonnay looked very promising and the Pinot Noir from the same vintage is crisp and nimble, if not quite as complex as some of the best in the valley. I would also direct readers to their superb Pinotage under the "Southern Right" and "Ashbourne" labels that represent great value.
Ken Forrester Wines (Stellenbosch)
Ken Forrester is one of the most familiar faces in the South Africa scene, an important figure whose portfolio strands both high-end boutique bottlings from old vines (when they are not being bulldozed away) to bottles that populate supermarket shelves. These cheaper, high volume wines are just as much ambassadors for a wine region or country. South Africa's weakness has been at this end with too much substandard fodder bought doubtlessly for potential profit margins that supermarkets or high volume distributors crave. Yet, I have always a good word for Forrester's "Petit" range that cost just a handful of dollars. They might not attract the highest scores, but that is not their intention. They are clean, well made, and respectful of their varietal and demonstrate that in the right hands, cheap South African wine can be perfectly fine.
Keermont Vineyards (Stellenbosch)
The Blaauklippen Valley in Stellenbosch is home to some extremely fine growers such as Waterford, De Trafford and Kleinood, all reviewed in this report. However, it is Keermont that has its nose just in front. Winemaker and surf-addict Alex Starey is certainly talented and has taken the estate to new heights in recent years, gradually expanding the portfolio year by year, for example with his maiden Cabernet Franc that shows promise. Their 2015 Topside Syrah from granite/sandstone soils is one of the outstanding wines of the vintage. These wines come highly recommended.
Under the guidance of eternally youthful head winemaker Matt Day, Klein Constantia has been going from strength to strength in recent years. One of South Africa's founding fathers, they deserve credit for never sitting still and pushing forward, especially with a multitude of Sauvignon Blancs centered around vineyard blocks to assuage Day's restless mind. These are quite "hardcore" Sauvignons, some more commercial than others that can crank up that asparagus-like element. They are produced in very limited quantities, some only available in South Africa, but they are worth investigating, especially the single vineyard Perdeblokke bottling. But of course, what Klein Constantia is more renowned for their sweet dessert wine, their Vin de Constance. The latest release, the 2014 Vin de Constance is a fantastic addition to what is a succession of superlative releases. I appreciate the subtle fieriness that comes through on the finish here.
Every year I have promised winemaker and proprietor Samantha O'Keefe to visit her property out in the middle of nowhere – otherwise known as Greyton. Well, this year I am finally able to meet Samantha at the property where we combine the tasting with Peter-Allan Finlayson of Crystallum and John Seccombe of Thorne & Daughters. I must say, it is impressive what Samantha has achieved. Emigrating from her native California with her husband and young children, her relationship did not survive the transfer, but she doubled down and constructed the home, built the winery, planted vineyards where nobody had ventured before, brought up the kids and damn well made one of South Africa's finest wines. I visit her new winery, built against a stunning mountainous backdrop, a very functional "box-like" building that foregoes aesthetics for a facility that gives her plenty of space in which to work. The results can be tasted in the wine. The latest releases are exemplary, especially the Estate Reserve Chardonnay that is, dare I say, almost Corton-Charlemagne-like in style, a fabulous Syrah from both Elgin and Greyton fruit and a spine-tingling 2017 Estate Reserve Syrah that exudes potential. Is there nothing Samantha cannot do?
Mullineux (Swartland/Franschhoek)
I have followed Chris and Andrea Mullineux right from the beginning. They used to send me samples of their wine when they worked at Fable Mountain Vineyards up in Tulbagh, after the couple met doing a harvest in Châteauneuf-du-Pape. Their small "empire" continues to grow. Since they gained the backing of Indian entrepreneur Analjit Singh, it has been full steam ahead in terms of expanding into Franschhoek and constructing a new winery, that they call home, at the Roundstone. That came with a name change, now "Mullineux & Leeu Family Wines" to reflect their two areas of interest. "The 2017 growing season was not as intense in terms of temperature fluctuation as 2016, so, although yields were down, there was less stress in the vineyard," Andrea tells me. "There was not so much wilting. The vines stayed green and upright, they were more naturally in balance and where you see [the effect of] stress is where there are differences in sugar level, higher in 2017. This means that we had longer fermentations in 2017 and the wines are the driest than we have ever seen." The effects of stress put pay to one of their label. There is no Schist Syrah due to drought, for Andrea found the wine too heavy. This is a very consistent set of recent releases from the Mullineux's and it is always fascinating to compare the variety of soil types and their influence on Syrah or Chenin Blanc. Their entry-level "Kloof Street" range is always a perfect entry-point to those who would like to dabble in Swartland for the first time at a very affordable price. At the other end of the scale, the recently introduced Leeu Passant range, from their new holdings in Franschhoek, is beautifully packaged in their retro styling, again, very consistent. I am only waiting for a bottle to really blow me away. It is just a question of when, not if.
Newton Johnson (Hemel-en-Aarde)
Newton Johnson has long been one of the finest estates in Hemel-en-Aarde, in a large part thanks to winemaker Gordon Johnson and his wife Nadia. It is home to some of the best Chardonnays and Pinot Noirs you will find in the Capelands. "We have used no bâtonnage in recent vintages," Gordon tells me. "The fermentations have increased from 8 to 12 weeks. In 2017 we used no SO2 before fermentation and I prefer to let the wine settle before any additions are made." They are best known for their excellent range of Chardonnays and Pinot Noirs, but do not overlook their Rhône inspired Granum, a wine so good that it begs the question whether Hemel-en-Aarde should look south of Burgundy for their inspiration!
A contemplative Paul Cluver looking over his family's vast estate in Elgin
Paul Cluver Estate Wines (Elgin)

Paul Cluver has seen pruning some of its range since my last visit. "The range is now more focused," Paul himself tells me. "For example there is now just one Riesling and there is no more Gewürztraminer. This has also made the winemaking more efficient and we can harvest at optimal ripeness." Winemaker Andries Burger comments: "The Pinot Noir has really improved in the last five years plus the new plantings are now gaining some age. The winery was designed for Bordeaux varieties so we introduced new wooden fermenters for Pinot Noir. I've found one site that benefits from whole bunch fermentation but it does not work for all sites." I ask Andries for his view on the recent vintages. "The 2015 was a fantastic vintage: warm and early. The 2016 was very early but the wines are more fruit forward. Then 2017 has a little bit of both, back to the elegant side but with slightly more opulence than 2015. In 2017 we had large diurnal differences which was great for the fruit." Elgin is an exciting region, especially with regard to its whites, though the threat here comes from apples orchards. Apples are a huge business in Elgin and financially more rewarding than nurturing vines. But when you see the quality of Cluver's fantastic "Seven Flags Chardonnay", so consistent year after year, it is easy to see that the region would be sacrificing some of the Cape's best terroir if orchards continue usurping vine.
Bruwer Raats was away when I visited this Stellenbosch winery, so I caught up with his cousin and winemaker Gavin Slabbert who oversees both the Raats portfolio and their old vine focused range under "B Vintners". The grape synonymous with Raats is Cabernet Franc and frankly there is no finer practitioner. You don't have to splash out much cash. Both the Dolomite Cabernet Franc from lower lying vineyards and the Jasper Red Blend (until now labeled "Red Jasper") are both excellent. Their high-density bottlings of both Cabernet Franc and Chenin Blanc from a small patch of vines outside the winery are outstanding, the only downside being the pitifully small quantity produced. For B Vintners, check out their wonderful Pinotage under the "Liberté" label. I would be remiss to mention one of South Africa's finest wines, the 2015 MR de Compostella that is a joint venture between Raats and Mzokhana Mvemve. Since debuting with the 2004 vintage, this has been one of the high points of my South Africa tasting and the 2015 is simply sensational, albeit a wine that deserves several years in bottle.
I heard rumours that Rudiger Gretschel parted ways with Reyneke in Stellenbosch since he took a position as head winemaker at Vinimark. Johan Reyneke assured me that while Gretschel is still officially the winemaker, he will eventually adopt a consultancy role whilst Nuschka de Vos has been doing all the daily work. Reyneke has been one of the Cape's leading proponents of biodynamics with minimal intervention or sulphur addition. I have been a huge fan of these wines since first encountering them several years ago. Staying on after the tasting to watch the England versus Croatia semi-final (I should have known Johan would not have a TV, so I thank Nuschka for streaming it on a laptop), I noticed how many of these wines, especially the reds, really blossomed with aeration. Do not be afraid to reach for the carafe. Biodynamic aside, there is clever use of foudres at Reyneke so, on the face of it, you achieve a "natural wine" since there is minimal or sometimes no SO2 usage. I can vouchsafe the quality of these wines that are complex and thought-provoking, magically manifesting great fruit intensity when allowed an hour's or so decanting. The 2015 Reserve Red that sees partial foot-trodden bunches in concrete tanks is utterly beguiling, whilst both 2017 Chenin Blanc with and without SO2 are as good as you will find in the Cape.
Sadie Family Wines (Swartland)
Eben Sadie was fated to become the figurehead of the Swartland revolution, whose ripples of influence can still be felt today. Yet, it is a role that Sadie has never felt entirely comfortable with. He has never been one to seek the limelight. He was just one of the first to realize the potential of Swartland and translate that into bottle, then one of the first to recognize the value of old vines and together with Rosa Kruger, introduced his "Old Vine Series" of wines with all their unpronounceable Dutch names. I remember him pouring me the first vintage at a café in Riebeek Kasteel with Chris Mullineux and South African writer Tim James. They were not your typical South African wines. There were differences in terms of aromas and taste, challenged the senses and asked questions rather than just giving you what you wanted. And in turn, you end up acquiring a taste for their attributes and understand that they could only be possible from these small parcels of ancient vines. In turn, he has revised the label that made his name – Columella. Where once Sadie followed the trend of bathing in new oak, he exacts a more prudent approach with little new oak and greater emphasis on concrete eggs and small wooden foudres that I inspect during my visit. The new oak is now just 5% or in other words, four new barrels each year.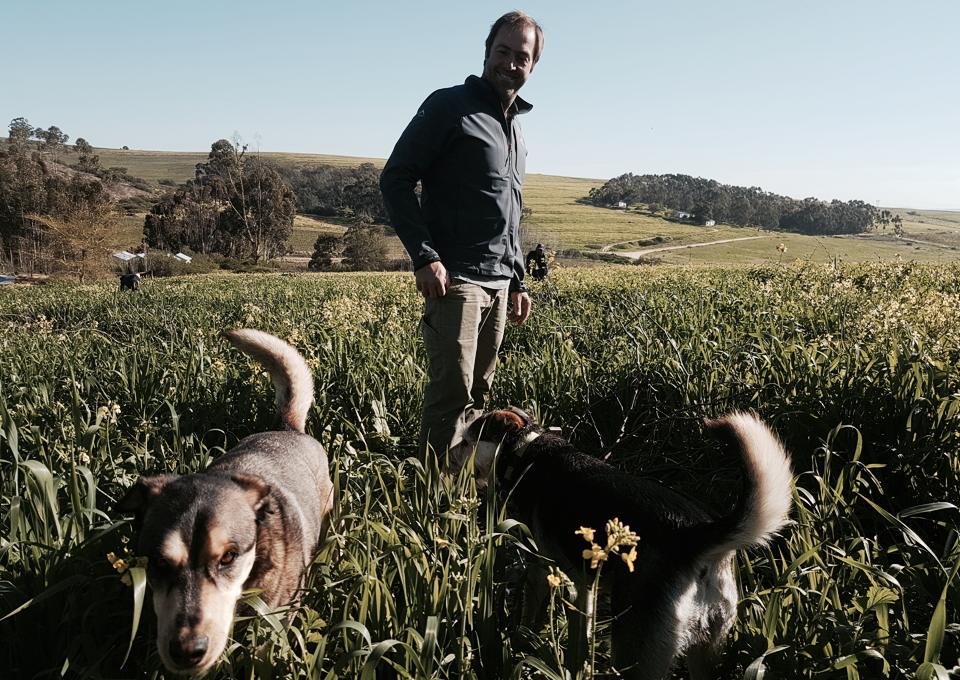 Eben Sadie and his dogs; all winemakers in the Cape seem to have dogs
Eben Sadie is a charismatic winemaker in the same category as say, Aubert de Villaine or Paul Draper. He has a constant train of thought that he sometimes articulates and you go with it. Not unlike one of his protégés Chris Alheit a week earlier, he spoke about the turning of page as his son Paul Sadie begins to take a bigger role in the winemaking so that he can spend more time in the vineyard. That is where he calls home and that is why I filmed him amongst a new parcel of vines that he planted just down from the winery. I did detect a desire to move his focus towards his own vines instead of just renting parcels of old vine. That's not to infer he has any desire to stop them, rather I think he wants to look out his bedroom window and survey his own vitis vinifera, those that will ultimately belong to the next generation. To that end, he has a project to renovate and construct a new winery, although he lamented that it all depends on cash in the bank.
These are rightly considered some of the finest South African wines and it is remarkable that they continue to be sold for such good prices. It would never be countenanced in Bordeaux! The red and white, Columella and Palladius respectively, are outstanding and the former is certainly all the better now that Sadie has dialed back the new oak (even though older vintages have aged well). The Old Vine Series is thrilling. His Cinsault, the 2017 Pofadder, is elegance personified but the standout of not just this tasting, but of all my South Africa tastings, is the remarkable Chenin Blanc, the 2017 Mev. Kirsten, from vines planted in 1905. Eben Sadie, a self-effacing man at the best of time, suggested that it might be the best he has ever produced. I think he is right.
There are several giant South African winemakers including David Sadie and Donovan Rall; here is another, Duncan Savage, up the ladder in his new winery in Cape Town
"Having a home is pretty damn important," quipped Duncan Savage as we sit down at his new winery facility in the Salt River area of Cape Town. It is clear that Duncan is elated to have finally moved here. Savage portfolio has duly expanded with a range of quite stunning, ingeniously titled wines. "The 2017 was the first vintage I made Savage in its own winery. The opportunity to have our own place came along. We bought everything second hand but there is a no compromise in attitude. We bought a peristaltic pump to do two aerations a day and reduce the heaviness and allow the wines to show well in their youth. We have a cold room. We can sort. We can age stuff longer on skins. We did a month for the Cinsault this year. We used to bottle the Red after a year and now it is two years with the second in foudres. It is a question of securing all the vineyard sources. We can buy fruit where we want to, so there are a lot of wines [from different growers] coming out of the same vineyard. But we want to find individuality in the wine. Now the drive is towards regionality and keeping the same sources, so that's why we have seven wines. In the future we will be moving towards using more foudres." I was a bit blown away by this range from Duncan. He is achieving his dream of zoning in on choice parcels of old vine from areas such as Piekenierskloof and Malgas. So you end up with a gallimaufry of grape varieties in some blends, yet nurtured beautifully by Duncan to create some thrilling, quite cerebral but delicious wines.
I first met Hannes Storm during his last vintage as head winemaker at Hamilton Russell, after which he established his own namesake label that some might recognize since his brother runs "Storm" wines in California. "If you have a name like Storm then you are going to have to use it," I remember Hannes telling me at the time. He has a small winery/tasting facility in the Hemel-en-Aarde valley that he runs with his partner. "The 2016 is my fifth release," he tells me. "The maturity of the vineyards is getting there, the vines were planted in 2008. We have 4.9-hectares and I have no plans to expand. It is farmed organically, and we will probably be certified organic next year. The other vineyards are minimally sprayed. In 2016 we did not have the extreme heat spikes thanks to the proximity to the Atlantic. We also had quite a lot of cloud cover so that we enjoyed a fairly quick ripening whilst preserving acidity. The wines are naturally fermented and matured in mainly François Frères barrels. Since 2015 the Moya's name has changed to "Ignis"." Maybe here I was expecting just a little more from Hannes' 2016s although I adore the poised and refined Ridge Pinot Noir.
The major news from this Stellenbosch producer is that in September 2017 Tokara appointed Eagle's Nest winemaker Stuart Botha to replace outgoing Miles Mossop after his successful 18 years tenure. Miles will be focusing on his own namesake wines, reviewed in this report. I admired Stuart's winemaking at Eagle's Nest so it all bodes well. The other news is the introduction of their deluxe label "Telos", launched to great fanfare earlier this year with comparative tastings against Bordeaux First Growth that were clear markers of their intent. The name comes from the Greek word for a "goal driven process". "It's our pinnacle wine," general manager Karl Lambour explained. "It is around 93% Cabernet Sauvignon, 5% Malbec and 3% Merlot for the 2015 vintage although, the components change depending on the year. Each vineyard is picked twice based on vigour within the same parcel. We wanted to see how far we could take Cabernet in terms of expression of the grape variety in Simonsberg. It comes from estate vines and a selection is made in the vineyard and fermented in concrete vats that we imported. Five barrels are made and we select the best four, the fifth used for topping up. It is aged 62% in new oak using Sylvan (300 year oak) and Taransaud T5 for 22 months 5 years dried with light toast. We particularly look at the textural element of the wine." Telos inevitably comes loaded with expectation, not least because of the asking price, around £400 or $500 per bottle. It certainly looks the part with its custom-made lacquer box. The wine itself is excellent, even if I would not start comparing it with century-long track record Bordeaux châteaux, quite yet.
Mike Ratcliffe sold his shares in Warwick Estate to focus on Vilafonté, a joint venture with winemaker Philip Freese and Zelma Long. Given both of them hail from the United States, Vilafonté has always been imbued with a Californian air, though its vines call Paarl their home, not Napa. I visited Mike at their winery on the outskirts of Stellenbosch. "The 2018 could be the greatest vintage we have ever produced," he explains, although I will not taste those until next year. "It has been off the charts in terms of extract and concentration. Last four or five vintages have been strong. The last couple of years we have managed the vineyards well and we built a dam to counter the drought." I discover that around 40% of their demand is for older vintages and so with this in mind, Mike kindly offers a complete vertical of the "Series M" cuvée that you can find in this report alongside recent releases. Suffice to say that these will appeal to those who like Californian Merlot, often opulent in style, but with the structure to support it. These wines do benefit from cellaring and as such, give them six or seven years in bottle and you end up with wine that develops rewarding secondary scents and flavours.