Browse using the new Vinous website now. Launch →
Printed by, and for the sole use of . All rights reserved © 2015 Vinous Media
Umbria – New Releases
Wine lovers may know Umbria best for its easy-drinking Orvieto and full-bodied, ultra-tannic Sagrantinos, but the region offers much more than that, including spicy, aromatic Trebbiano Spoletinos, as well as Cabernets and Merlots that will appeal to those with more international palates.
With its lush, green scenery, the hilly, landlocked region of Umbria looks quite similar to adjacent southern Tuscany and northern Lazio. Its wines are varied and interesting, with the reds made mainly from local varieties such as Sangiovese and Sagrantino, and its whites from the likes of Grechetto di Todi, Grechetto di Orvieto, Trebbiano Spoletino, Procanico and Verdello. International grapes are also grown, especially Cabernet Sauvignon, Merlot, Chardonnay and Sauvignon Blanc.
The Numbers Game
Statistics must be taken with a grain of salt in Italy, where contradictory if not downright erroneous statistics are commonplace. Nevertheless, in 2014 Umbria produced 670,000 hectoliters of wine (5% less than the 706,000 hectoliters made in 2013). This was actually 17% less than the recent five-year production average in Umbria, which hovered around 800,000 hectoliters. By contrast, Italy's overall wine production was just 12% lower than the five-year average. However, while Umbria appears to be producing less wine of late, its wines are at least theoretically better: DOC wine production in 2014 was 289,000 hectoliters (up 12% from 2013, and 2% above the 2008-2013 average). In fact, DOC wines now represent 44% of the region's yearly output, which is far superior to Italy's 34% average. It is Umbria's IGT wines and especially its Vini da Tavola that are significantly decreasing in volume. And although it may come as a surprise to some readers, Umbrian wine production is divided fairly evenly between white and red wines.
A Few Bumps Along the Way
Unfortunately, for many years Umbria was the private buying reserve of big out-of-the region estates (mainly Tuscan), and clearly this did not do much for the region's wine quality. Local wine producers were happy just to sell mainly bulk wine. Even when the new generation took over their families' wineries in the '80s and '90s, they were disadvantaged by not having much experience with quality winemaking—or with making true wines of place.
A close look at he Sagrantino grape
For these reasons, Umbria was at the forefront of the misguided craziness for international grape varieties that swept Italy during those two decades. I will never be able to stress enough just how damaging this movement was to Italy and its wines. In Umbria's case, rather than studying and researching their local native grapes, wineries produced a plethora of mostly dull and uninteresting Cabernets and Chardonnays (but never as good as better versions that were widely available all over the world) or turned out innocuous blends where the unique attributes of native grapes were smothered by the dominating presence of the likes of Chardonnay and Sauvignon Blanc. This ill-advised approach to local winemaking greatly delayed an understanding of the potential of local cultivars and biotypes, such as Trebbiano Spoletino, the potential of which has only recently been recognized.
Umbria's Wines and Production Areas
Orvieto is one of Italy's most historic wines and wine-production zones (the appellation actually spills over into Lazio), but up until the late 1980s most of the wine was shipped out of the region in bulk and bottled elsewhere, mainly in Tuscany. Clearly, quality control was lacking. Estate bottling in earnest only began in the 1990s. The creation of the Superiore category in 1997, which legislated lower yields, was an important step in the right direction, as was the substantial decrease in the amount of Chardonnay and Sauvignon Blanc in blends. Today Orvieto, which is essentially a blend of mainly Grechetto di Todi and/or Grechetto di Orvieto plus small additions of Procanico, a local higher-quality Trebbiano Toscano biotype, Drupeggio and Verdello. It can be a surprisingly good if usually uncomplicated, easy-drinking wine. The best examples are also surprisingly ageworthy.
Because of its proximity to the Tiber and Paglia rivers, as well as the Corbara lake, Orvieto is one of Italy's hotbeds of noble rot. Historically, Orvieto has been much better known for slightly off-dry wines (Amabile and Abboccato, in Italian) than classically dry ones. For this same reason, late-harvest Botrytis cinerea-affected wines are very typical. Incidentally, Orvieto is one of Italy's prettiest small cities; in fact, the magnificent, mesmerizing gold leaf facade of the Duomo is worth a trip all in itself.
Looking at the reds, Torgiano Rosso and Rosso Riserva, made famous the world over by the Lungarotti family, essentially put Umbria on the quality wine map. In fact, back in the early 1970s, Lungarotti's Torgiano wines were the only Umbrian reds widely found in wine shops outside of Italy. Unfortunately, while Torgiano was the first wine in Umbria to gain DOC status (in 1968), and subsequently that of DOCG in 1990, the number of wine categories was greatly increased in 1992, when, along with the traditional Bianco, Rosso and Rosso Riserva categories, a slew of international categories were added, including Torgiano Riesling Italico, Merlot and Cabernet Sauvignon, all of which have done very little for the prestige of the Denominazione.
Today, it is Montefalco that has captured the attention of wine lovers everywhere, and Montefalco Sagrantino represents Umbria's most exciting and sought-after wine. A DOCG since 1992, the Montefalco Sagrantino production zone includes the communes of Montefalco, Bevagna, Castel Ritaldi, Giano dell'Umbria and Gualdo Cattaneo. Montefalco and Bevagna are especially well-kept, beautiful medieval towns that are well worth a visit independent of the high-quality wines they produce. The total area under vine for Montefalco Sagrantino amounts to roughly 660 hectares and the wine's popularity, which had sagged somewhat after the heyday of the 1990s, appears to be bouncing back. Even more interesting is Montefalco's other main red wine, Montefalco Rosso. A Sangiovese-based blend, usually with additions of Montepulciano and Merlot, Montefalco Rosso is less expensive and offers much more easy-drinking appeal than the extremely tannic Montefalco Sagrantino.
Montefalco's production of white wine, which includes the Montefalco Bianco, a blend of Grechetto and Trebbiano Toscano, and the more interesting Trebbiano Spoletino wines, is minimal. In any case, the fact that Montefalco is viewed with great interest by many in the world of wine is shown by the numerous deep-pocketed investors who have recently established estates in the area, including Trentino's Lunelli, Tuscany's Cecchi, Friuli's Livon and Umbria's Lungarotti.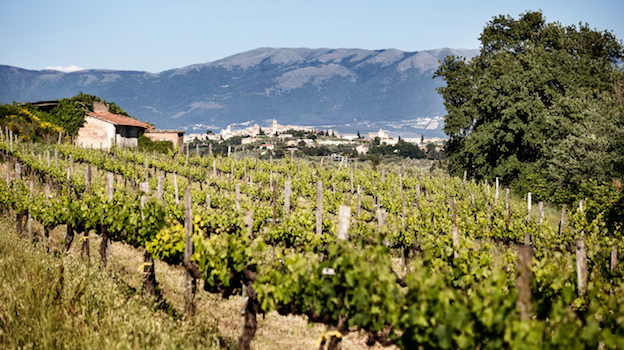 Tenuta Antonelli's Montefalco vineyard

There are many other DOCs in Umbria besides the wines I have mentioned. Most are of little interest to international wine lovers, although fine wines are made in the Colli Altotiberini, Colli Perugini, Colli del Trasimeno, Lago di Corbara, Spoleto and Assisi denominations. Perhaps the one with the most potential is the Colli Martani, which covers a rather vast area between the valleys of the Tiber river to the west and those of the Topino and Clitunno rivers to the east, and is most famous for its white Grechetto wines. I also enjoy the wines called Vernaccia di Cannara, semi-aromatic dry and sweet red wines that are difficult to find outside of Italy—and even within the country—but are certainly worth the search.
Recent Vintages in Umbria
As was the case almost everywhere else in central Italy, 2015 featured a hot growing season. So while the better red wines are deep and ageworthy, lesser wines can be disappointing: many of the reds are marred by gritty tannins while the whites are often aromatically muted. The growing season of 2014 was exceptionally rainy but the white wines have turned out better than expected, with lovely perfume and acid thrust, although less successful wines are diluted. The 2013 vintage started off with some challenges. Rain and even hail hit some parts of the region in the spring and early summer (especially Orvieto and Montefalco), but the weather improved during the latter half of the season. Longer-than-usual hang times allowed for the production of classic dry red and white wines. The 2012 vintage was generally hot, and its wines are for the most part full-bodied and perfumed, but early-ripening international varieties such as Merlot suffered some water stress, making for some tough wines. The 2011s almost universally show the effects of a very hot, dry summer in their fleshy but tough reds and aromatically challenged whites, while the wines of 2010 are generally graceful and sleek.
I tasted the wines in this report in April and May in Umbria and Rome.
You Might Also Enjoy
Barberani's Orvieto Classico Superiore Luigi e Giovanna, Ian D'Agata, April 2016

Sardinia: Sun, Sea, Sand and Alluring Wines, Ian D'Agata, January 2016

Sicily: The Challenge of Turning Great Potential Into Great Wines, Ian D'Agata, December 2015

Campania: Made in Italy, Ian D'Agata, September 2015

New Releases from the Marche: Something for Everyone, Ian D'Agata, July 2015
The Wines of Abruzzo and Molise, Ian D'Agata, May 2015
-- Ian D'Agata
Producers in this Article