Browse using the new Vinous website now. Launch →
Printed by, and for the sole use of . All rights reserved © 2015 Vinous Media
Paso Robles and Points South
Although often lumped in with other appellations in California's Central Coast, Paso Robles has its own distinct culture and values, both of which are clearly reflected in the wines. In recent years, a number of outside investors have arrived in Paso, attracted by, among other thing, large tracts of land that are virtually impossible to find in other parts of the state. Law, Epoch and Daou are all sprawling properties on a scale that is completely different from the norm in most parts of the Central Coast, with the exception of a few properties in Santa Barbara.
At the same time, a younger generation of winemakers has begun to emerge, which creates a compelling contrast between the super luxurious, no-expenses-spared estates and much more artisan wineries producing just a handful of barrels of wine. Rhône varieties have garnered much of the attention in recent years, but Paso's early history was built on Zinfandel and Cabernet Sauvignon, both of which can be exciting here.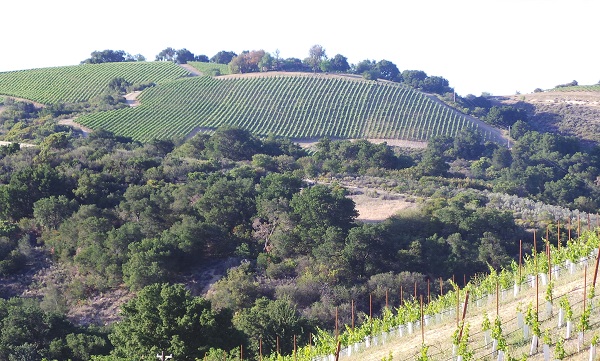 Law Estate

Lastly, I continue to see an evolution in winemaking towards styles that are more transparent to site than in the past. Within a global context, the wines of Paso Robles are naturally rich, powerful and intense on their own, so winemaking doesn't need to highlight those attributes, they are already in the fruit. The much bigger challenge is to keep wines from being excessively heavy. The greater use of whole clusters in Rhône varieties and the increased presence of cement in the cellars are but two of the developments that are recent to Paso within just the last few years. My own belief is that we are just at the beginning of what will one day be viewed as the beginning of Paso's modern-day history.
Paso Robles - The 2012 Vintage
Growers were thrilled to see 2012 after a cold 2010 with late season heat spikes and even colder, later-ripening harvest in 2011 with lower levels of ripeness and other significant weather challenges including frost and poor flowering. Conditions during 2012 were much more favorable. Broadly speaking, 2012 brought dry, sunny weather with warm, but not excessively hot temperatures and a final phase of ripening with no surprises that gave growers the ability to pick at a leisurely pace. Expectations were high for a more typical vintage of rich, deeply textured wines.
Tasting from barrel at Denner
As I wrote in my reports on the wines of Santa Barbara and the Santa Lucia Highlands, yields were higher than normal in 2012, but at the same time, Rhône varieties did not suffer as dramatically as cooler-climate varieties. Overall, the 2012s show lovely radiance and tons of near and medium-term appeal, with soft contours and no hard edges. The wines are medium in body, but not at all huge or explosive, as they can so often be in this part of the state.
Undulating hillside vineyards at L'Aventure
From cellar to cellar, producers commented on how surprised they were at the softness and generally medium-bodied structures of the wines, something that was evident even during the fermentations. Some winemakers think the 2012s will gain body and structure in bottle. Others believe the positive surprise of 2011 influenced producers to pursue a more restrained style of winemaking. A third group of producers chalks up the personality of the 2012 vintage to one of the mysteries of life that can't be easily explained. The 2012s impress for their radiance and early appeal, even if the visceral thrill of the very finest years is missing.
For that, readers will have to wait until the 2013s are released next year. Based on what I have tasted from barrel so far, the 2013s will prove to be superior to the 2012s. Yields were also generous in 2013, but in the second year of a drought cycle the vines produced more concentrated juice, yet retained brighter acidity and greater tension. It is still early for 2013, yet the best wines are incredibly exciting, even at this stage.
This article includes wines from Paso Robles, along with a number of wines from neighboring counties.
Further Reading
For more background on Paso Robles, readers might enjoy revisiting some of the articles in our Archive.
Paso Robles and Beyond: Excellence in 2011

California's Central Coast: Better than Ever
Exploring California's Central Coast
-- Antonio Galloni
Producers in this Article