Browse using the new Vinous website now. Launch →
Printed by, and for the sole use of . All rights reserved © 2015 Vinous Media
2013 Bordeaux: Walking the Tightrope
St Estephe Pauillac Margaux St. Julien Pessac-Leognan Sauternes
Pomerol St. Emilion Left Bank Satellite Appellations Right Bank Satellite Appellations
The 2013 vintage will be remembered as one of the most challenging Bordeaux has ever seen, but quality-minded properties found a way to make delicious wines with plenty of near-term appeal.

Much has been said and written about Bordeaux's 2013 harvest. Unfortunately, we live in such a fast-paced, hype-driven world that vintages are immediately claimed to be either the 'greatest ever' or some variant of a disaster, which is a shame, as most harvests are, by definition, closer to average. That is exactly what 2013 is. An average vintage with a handful or two of outstanding wines that deserve serious attention. For an overview of the vintage, readers might enjoy this short video.
I spent two weeks in Bordeaux surveying the 2013s in numerous château visits and larger comparative tastings. As a wine critic, enjoy the challenge of vintages like 2013, because it is in these kinds of years that professional advice has its greatest value. The epic vintages are easy. All of the wines are terrific, some are just better than others. That is far from the case in 2013, a vintage in which careful analysis and multiple tastings are key. It was very much a similar story with the 2012 red Burgundies, the 2011 Napa Valley Cabernets and the 2009 Barolos. Ultimately, the great terroirs and best winemakers have a way of coming through, even in the most challenging of years. I take a look at some of the standouts in this short video.

Cabernet Sauvignon at Domaine de Chevalier, Pessac-Léognan. Note the extreme rockiness of these soils.
The 2013 reds are mid-weight wines with modest depth. A handful of wines exhibit a bit more concentration, resonance and personality, but even the best are lighter in body than they are in most years. The fruit is bright and distinctly high-toned, with plenty of red cherry, cranberry and rhubarb nuances punctuated by lively acidity. At times, I thought I was tasting Burgundy, such was the translucence and transparency of some wines. In sum, the 2013s are fruity, medium in body and built for near-term pleasure.

Within this context, there are a few wines that are exceptional. So much has changed in Bordeaux over the last 30 years; namely a much more focused approach to vineyard management and yields, more thorough sorting, increased cleanliness in cellars, smaller fermentation tanks that allow for a more parcel-driven approach to farming and winemaking, with the goal of focusing on smaller lots, and an increase in the number of second and third wines. All of that means that châteaus can and are much more selective with the fruit that makes its way into the Grand Vin.
To be sure, interest for this vintage appears to be quite low. I saw hotels and restaurants both with availability during the two weeks I spent in Bordeaux, a time I expected to see quite a bit more movement. The wineries I visited during en primeur week all had notably fewer visitors than they were set up for.

This is the first comprehensive Bordeaux article to appear in Vinous as we kick off our coverage of the region. Bordeaux has been one of my favorite appellations for years. I have long been attracted to Bordeaux for its timeless classicism and the ability of the best wines to age for decades. I wrote my first article on Bordeaux for my high school French class, which I am sad to say, was many years ago! I have been planning to add Bordeaux to my coverage for quite some time. This report, and those that will follow, are the result of that preparation.
The new barrel room at Château Montrose, St. Estèphe
The Growing Season
I imagine 2013 will be remembered one of the most challenging vintages in Bordeaux. It was a year in which everything bad that could happen did happen. Budbreak was delayed by about two weeks. I remember being in Bordeaux in late May. The weather was unseasonably cool, overcast and damp. Most of the flowering took place under wet and humid conditions that caused widespread coulure (shatter) and millerandage (shot berries). Both lowered potential yields, in some cases, dramatically. Mildew pressure was high. At this point in the season, though, quality was not compromised. One need only to look at the 2010 red Burgundies to understand that a poor flowering alone is not enough to adversely affect the quality of a vintage. Flowering is a delicate period in the growing season, and the maturation of plants is also highly variable during this time. For example, at Vieux Château Certan, the young vine Merlot flowered pretty well, but the old-vine Merlot got hammered, as the vines were especially vulnerable when the weather was the most difficult. That turned out to be a blessing in disguise, as reduced yields on the vine allowed those grapes to mature, while the young vine Merlot, with its more normal yields, never had a chance.
In the Médoc, Merlot was also hit hard, which resulted in a number of wines with higher than normal percentages of Cabernet Sauvignons and a few Grands Vins where the Merlot was left out altogether, including Margaux and Pichon-Lalande. Summer brought with it scorching heat, including the warmest and driest July on record. It is widely believed that favorable weather in July baked out green notes (sometimes also known as pyrazines) in the wines. As a result, there are only a few wines that show hints of greenness.
Vineyards at Lafleur, Pomerol
Poor weather returned in late July and August, most notably on August 2nd, when a large swath of hail wreaked considerable damage on parts of St. Emilion. If that was not enough, insistent rain fell in September, followed by unseasonably warm, tropical weather, the perfect conditions for widespread outbreaks of botrytis. At this point, winemakers had a choice: harvest early, or risk a significant further loss of the crop. On the Left Bank, estates were planning to pick in early October. Most ended up starting in late September, a week or more ahead of schedule. The fruit was not fully ripe, the skins were thin and the flavors weren't totally developed. Natural sugars were in the 12-12.5% range. Chaptalization was employed widely to bring the wines up to 13%. Some producers opted to wait out the weather and harvest from early to mid October, especially on the Right Bank.
Winemakers had differing opinions on optical sorting; some viewed it as essential, while others felt the process was too traumatic for grapes that were already fragile. In the cellars, fermentations were much gentler than normal, with lower temperatures than in less challenging years. Many winemakers told me they planned to give the 2013s less time in oak as well.
On the Left Bank quality appears to be marginally more consistent in St. Estèphe and Pessac-Léognan. Margaux and Pauillac have plenty of highs and lows. St. Julien is the most challenging appellation. With the exception of Ducru and Léoville Las Cases, many St. Juliens are diluted and lack depth. On the Right Bank Pomerol is the star. St. Emilion is a bit all over the place, but that is more a reflection of its size and diversity than a true reflection of quality.
Ultimately, 2013 is a vintage that requires selection on a château-by-château basis. While most of the attention in Bordeaux centers on the star properties and appellations, there are numerous wines from lesser-known estates and appellations that are well worth taking a look at.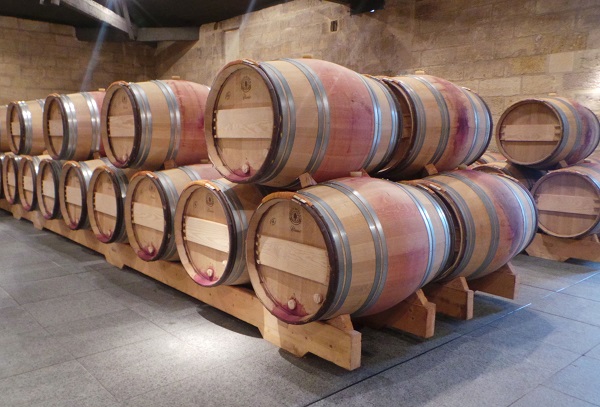 Vieux Château Certan, Pomerol
2013 Whites and Sauternes
While reds struggled in 2013, it was a fabulous vintage for whites, both dry and sweet, because the cool weather was more favorable for the production of Sauvignon and Sémillon. In particular, readers will want to focus on the whites of Graves-Pessac-Léognan, the best of which are truly magnificent. The same can be said about Sauternes.
Tasting from Barrel – What You Should Know
Tasting wines from barrel can only yield an approximate understanding of quality at this early stage. For that reason, wines are assigned parenthetical scores. Because of the late harvest in 2013, wines this year were being tasted at an earlier period in their lives than is normal. Given the mid-weight structure of the vintage, that is probably not going to be a huge factor. Tasting the wines this early would have been a much bigger challenge had 2013 been a vintage of massive, tannic reds. Still, a number of wines I tasted were quite raw and unpolished, often because of late malolactic fermentations. The quality of samples I saw also varied from location to location. Interestingly, quite a few wines showed better in comparative tastings than they did at the châteaus themselves. When I came across a sample that was not up to my expectations I tasted the wine again, something that happened on more than a few occasions.
La Mondotte, Pomerol. Note the bed of pure chalk that lies below the vineyards
A Word (or Two) on Pricing
Much of how 2013 is perceived in the market will ultimately come down to pricing. No one is under the illusion that 2013 is a great vintage. It most clearly is not. Château owners face reduced yields and farming costs that skyrocketed in an attempt to get the best out of the vintage. Understandably, owners have a great deal of pride in the wines they were able to make. The wine business is different from other businesses. It is by nature much more human in scale. Aside from a few of the glamor properties, most estates are family owned and/or family run. Wine is a product that is enjoyed in social settings. The market wants to see lower prices. My sense is that some owners take that personally. They have a hard time separating themselves from their business and making decisions for the future. As a business owner, I can empathize. But prices still need to come down.
Ducru-Beaucaillou, St. Julien
Want to know what the reality is? The truth is very few people drink Bordeaux today. And that is a shame, because Bordeaux is the only region in the world that can produce wines like the 1961 Latour or 1961 Ducru-Beaucaillou, both of which I have been fortunate to drink recently. At the other end of the spectrum, Bordeaux also makes any number of delicious wines that deliver tons of value. When I was in Bordeaux last year, owners complained about the 2010s, which were largely unsold. A year later, nothing has changed substantially. Well, that is not exactly true. The 2010s have been joined in warehouses by the 2011s, wines from a much weaker vintage. They will prove an even harder sell. And let's not forget the 2012s, most of which are being fined right now in preparation for imminent bottling.
It is imperative that 2013 be priced so consumers can rediscover the joys of Bordeaux. If that doesn't happen, wines will continue to stockpile until the dam breaks. When that will happen is anyone's guess. Over the last year, both the US dollar and Japanese yen have depreciated vis-à-vis the euro. This means that if prices are set at the same level as last year, the 2013s will be more expensive in these key export markets. So far, the few prices that have been released are inline or slightly below 2012. I don't think that is going to be enough to move the needle on the 2013s. All of that adds up to a very difficult economic context for this vintage.
Pichon-Longueville Baron, Pauillac
That brings us to the essential question: should you buy 2013 futures (en primeur) or not? Let's review the three essential reasons for buying Bordeaux futures, which involves paying for something today that you will receive in two years:
1) An expectation that wines will be more valuable in the future than they are today
2) A guarantee of provenance
3) The ability to order special formats
Since 2013 is an average vintage, the wines are not investment quality. Unless you expect the US dollar to lose considerable value over the next 18-24 months, buying wine under the first scenario makes no sense, especially if first tranche release prices do not come down.
Factors 2 and 3 will always hold. Buying futures is safer than buying wines at retail or at auction. You can also order special formats, although I am not sure how much practical sense there is in ordering special formats, especially larger magnums and double magnums, in a vintage like 2013. There are a handful of overachieving wines but no more than that.
I have no doubt some châteaus that choose to keep their 2012 pricing will sell the wines through. Négociants are too afraid to lose future allocations, and so are merchants. But what happens when the wines reach the final consumer? Well, if prices aren't adjusted to meet the quality of the vintage, consumers will be deeply disappointed by what they find in the bottle. Most châteaus have enjoyed a spectacular run over the last 25+ years, with price increases that far exceed the reductions necessary in weaker years. All it takes is one look at all the new cellars in Bordeaux to understand the immense prosperity that has been created over that time. This is a great opportunity to put Bordeaux in the hands of consumers at prices that make sense and get people drinking Bordeaux again, not to mention the next generation of wine drinkers who have already been turned onto a wealth of great wines from other regions. These are the future consumers of top-flight Bordeaux. If they aren't introduced to Bordeaux now, how will they gain the appreciation and culture needed to understand the better wines and great vintages?
The barrel room at Smith-Haut Lafitte, Pessac-Léognan, where punchdowns are still done entirely by hand
What is the Value of Independence?
Vinous is an independent, American-owned publication based in New York. Vinous is not owned by a parent company, has no ties whatsoever to the businesses of making, selling or importing wine, and does not accept advertising. We pay all of our own travel and lodging expenses. I make the final decision on how much time is allocated to each region, and have full flexibility to personally visit as many châteaus as I can and taste as many wines as needed, many of them more than once. This allows Vinous to bring you, the reader, unparalleled and truly independent coverage of Bordeaux and its wines.
I make every effort to taste broadly across all styles, something I have endeavored to do in each region I have covered over the last decade of reviewing wines professionally. It is impossible to spend time in a region and not be aware of the politics, jealousies and rivalries that are part of any local fabric. That is simply life. However, politics is also something I have absolutely no interest in. Anyone who makes a great wine is someone I want to know about and taste with whenever possible. Period. My number one priority is protecting the interests of the people who sign my paycheck, you, our subscribers in 50 countries around the world.
I tasted all of the wines in this article during two weeks I spent in Bordeaux in March and April 2014. Many of the wines were tasted more than once, which is reflected in the tasting notes.
View the wines by sub region:

Left Bank Satellite Appellations
Right Bank Satellite Appellations

-- Antonio Galloni

Producers in this Article