Browse using the new Vinous website now. Launch →
Printed by, and for the sole use of . All rights reserved © 2015 Vinous Media
Where Value Lies: First Look At 2016 Bordeaux
BY NEAL MARTIN | OCTOBER 23, 2018

"Inexpensive Bordeaux" may seem like an oxymoron given the exposure afforded to en primeur and those wines that sit at the top of the hierarchy. I stand guilty as charged. Reading through my articles suggests that I pour Petrus on my bowl of cereal every morning. Apart from the fact that milk goes much better with cornflakes, the truth is that older vintages, blue chip names and precious bottles could never be part of my daily drinking regimen since these wines exist beyond my financial means and those of most people. Bordeaux fits the bill perfectly because outside the Grand Cru Classés and their ilk, there is an ocean of well-priced, good quality Clarets that inhabit a very different world than the cosseted elite. This vast hinterland is populated by less familiar names that might struggle more under unfavorable weather conditions and cannot afford draconian selections year after year. Haute couture vineyard husbandry and bespoke vinification is simply impractical and unaffordable. These châteaux cannot shell out for celebrity consultants and struggle to find importers who believe in their wine (through thick and thin.) These properties often fight for recognition. Sometimes their survival beyond the next financial year cannot be taken for granted.
But they all deserve to be an integral part of Bordeaux coverage. They are on the exact same playing field as the superstars. Like any sport, there will be performances that deserve recognition and applause or maybe, that are equal to or even surpass the superstars. You can never predict who might score a winning goal.
This report serves three purposes. Firstly, it represents my first look at the Bordeaux 2016s in bottle. Its purview is the Médoc and the lower end of the hierarchy. I have taken the liberty of slipping in a handful of 2015s and 2017s since they are within the value theme. Secondly, this report includes my annual roundup of the latest Cru Bourgeois classification, which I have covered since its reboot in 2010. Given that this year's alumnus is the touted 2016 vintage, I have high hopes that the wines will offer rich pickings for Bordeaux-lovers wishing to avoid the prohibitive prices of Grand Cru Classé and who care more about the contents inside the bottle than the label. Lastly, I also take this opportunity to detail imminent changes in the classification and offer my two cents.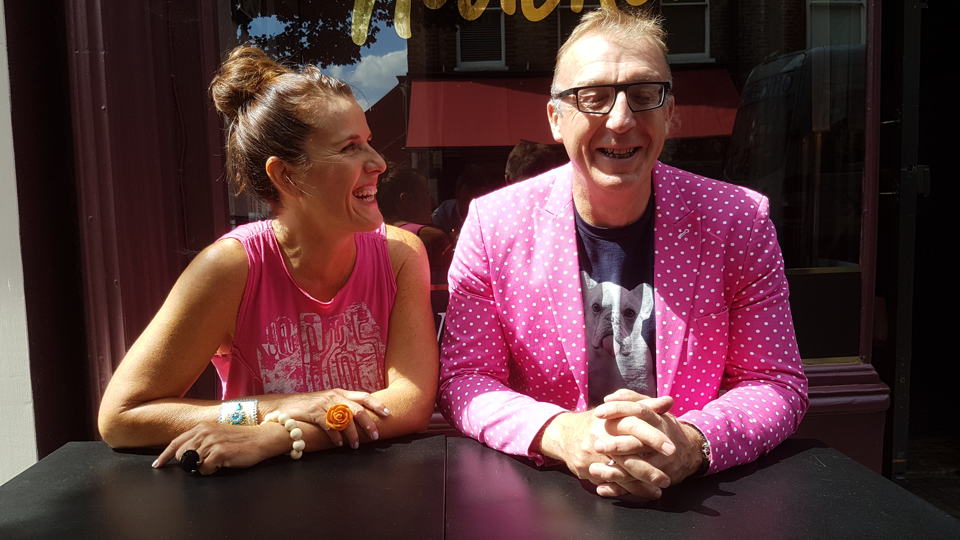 Olivier Dauga and partner Cathy Socasau. Olivier decided to dress down for the tasting.
The 150-odd Cru Bourgeois are blended with reviews for recent releases courtesy of consultant Olivier Dauga, which long-term readers will know I follow each year. Barely containable in his lurid pink jacket and yet to come down from celebrating the previous evening's triumph of France in the World Cup, Dauga presents his Bordeauxs at around the twenty or thirty dollar mark. You could argue that it is more challenging to make good affordable wine at this level than when you have unlimited financial resources, but for many consumers, this is their entry into the delights of Bordeaux. I also include 2016s tasted at Oenoconseil in Pauillac that I reviewed in barrel, plus a choice selection from Dominique Dupuch, the gentleman who runs the "La Cave d'Ulysse" shop in Margaux. He pointed me towards some under-the-radar wines that include a superb Médoc in the shape of the 2016 Château L'Eden and a couple of impressive releases from the Margaux estate, Château Tayac.
The 2016 Cru Bourgeois
The 2016 vintage sees 270 châteaux awarded the Cru Bourgeois classification, equivalent to 33 million bottles of wine or 32% of the Médoc's production. That is a sizeable figure and an important category for Bordeaux. Bottles of Cru Bourgeois carry an official sticker (see below) displaying the newly designed logo with a useful QR code so that consumers can whip out their phone and gain background information, or alternatively, use the Vinous app to read an independent review!
Cru Bourgeois is a happy hunting ground for Bordeaux-lovers on a budget in great vintages. When growing conditions are tough, properties occupying the lower rungs of the hierarchy suffer disproportionately due to supposedly inferior terroir vis-à-vis Grand Cru Classé and are constrained by tighter strings that limit their options in terms of picking dates or selection. In difficult vintages the bar is lowered and the numbers of Cru Bourgeois stays roughly the same – for example, in the poor growing season of 2013 there were still 251 Cru Bourgeois. I have long argued that the bar should stay where it is, however politically difficult that might be. A benevolent season like 2016 evens the playing field and consequently the general standard is higher. That does not imply that just because a bottle is affixed a Cru Bourgeois sticker that the wine passes muster. Tasting some 158 of the 2016 Cru Bourgeois exposed winemaking faults that, to be honest, ought to have been picked up during the assessment process. I found instances of volatility, one or two cases of brettanomyces and occasionally greenness. When a growing season has gone swimmingly, the more lackadaisical winemakers take their eye off the ball, assuming that Mother Nature will guarantee quality. The reality is that you must pay attention until the cork is inserted. So, it is not the first time that I have to comment that some Cru Bourgeois, including bottles assessed from two or three samples, do not deserve to be classified. These wines risk tarnishing the reputation of the entire category.
I arrived early for the Cru Bourgeois tasting, always one of the best organized.
Cru Bourgeois is a valuable category of Bordeaux because there is a clutch of fabulous wines that I bet could be sneaked into a blind tasting of Grand Cru Classé and nobody would notice, at least not until you examine the price tag. The top 2016 Cru Bourgeois are furnished with sensual pure fruit, and silk-like tannins; they attest to assiduous winemaking and as an added bonus, built-in longevity. As usual, allow me to list my twelve top picks from across the appellations:
Branas Grand Poujeaux (Moulis)
Lilian Ladouys (Saint-Estèphe)
Tour des Termes (Saint-Estèphe)
But all is about to change. On 4 January this year, after lengthy negotiations with the French government, the Cru Bourgeois announced that there will be a subdivision of the present classification into three rankings: Cru Bourgeois Exceptionnel, Cru Bourgeois Supérieur and Cru Bourgeois. Why make it more complicated? Well, the answer is simple. One of the shortcomings of the present classification is the refusal of some higher performing châteaux, including Chasse-Spleen and Poujeaux, that were part of the original classification to rejoin the new one. Their rebuff rather undermines its standing. These properties would argue that since the qualitative gap between the top and bottom of Cru Bourgeois is wide, why sully their reputation by being lumped in with properties that scrape into the classification by the skin of their teeth, possibly by doing the minimum possible? The introduction of a three-tier ranking is a carrot for those striving for higher quality wines, it allows them to be distinguished from the rest, without the rest losing their status. It is a balancing act whereby the aim is to bruise as few egos as possible and keep everyone happy. Not an easy task, although it did work for a while, at least until the original system was declared null and void in 2004.
The new ranking is a little Byzantine because the plan is for each château to maintain their classification status for five years before the reassessment. This will be incepted from the 2018 vintage and announced in 2020. The criteria for assessment are not only based on a blind evaluation of the wines, which will be conducted by five independent judges who themselves undergo appraisal. Estates will also be judged on sustainability, eco-friendly viticulture, cleanliness, tourist facilities, price of wine and even, God forbid, scores. I asked Frédérique de Lamothe, director of the Alliance des Crus Bourgeois du Médoc: what happens in the case of a château with a comparatively unhygienic cellar that churns out great wine year after year? It is not impossible. I can think of numerous cases where cellars look unkempt and unclean but that produce some of the great wines in the world – and vice versa! The general view is that this is extremely unlikely and at present, nobody really knows the weighting that will be given to different categories during assessment.
The new regimen has met a lukewarm response. In my opinion, it is easy to criticize a ranking system that might tempt some of the bigger players back. It worked before. Having said that, nowadays there is much more money involved and expectant shareholders will inevitably ask if participation is beneficial. Much will depend upon the strictness of selection. There were originally nine Cru Bourgeois Exceptionnels. In my opinion, there is a risk that the potential status of this upper tier of properties will be diluted with more than a dozen members. At the moment, no figure has been set. Maybe they should consider introducing a maximum number at the top level in order to instill a sense of elitism. The bottom line is that consumers need to feel confident that when they spend more on a higher-ranking Cru Bourgeois, they will be drinking a better quality wine. That superiority must be translated into the bottle. We will see how it pans out in the coming months.
Search This Article For:
You Might Also Enjoy

Fairest of Them All: Cos d'Estournel 1928 – 2015, Neal Martin, October 2018

Sharing Alike: Petrus 1947 - 2015, Neal Martin, September 2018

Aiming High: Haut-Condissas 1997–2015, Neal Martin, August 2018
The Marital Margaux: d'Issan 1945-2015, Neal Martin, July 2018
Cellar Journal – Bordeaux to Start…, Neal Martin, July 2018

Looking Back To Go Forward: Lafite-Rothschild 1868 – 2015
, Neal Martin, July 2018
Producers in this Article