Browse using the new Vinous website now. Launch →
Printed by, and for the sole use of . All rights reserved © 2015 Vinous Media
2012 Rosso di Montalcino
Rosso di Montalcino is undoubtedly one of Italy's true wine success stories of the last decade. A wine I had all but given up on from the latter part of the '90s to the early part of the 21st century, it has undergone a remarkable quality turnaround and is now one of Italy's most interesting and dependable red wines.
Although it appears that the days in which Rosso was Brunello's forgotten little brother are gone for good, it wasn't that long ago that producers were just going through the motions when making these considerably less expensive wines. Clearly, before the global economic crisis clamped down hard, interest was focused on the much more popular, prestigious and remunerative Brunello. Even worse, it seemed many producers had reduced their Rossos to being reservoirs for the poorest wine they had made in the vintage, and their lousiest barrels. And so, more often than not, Rossos were tough, angular, bitter, dry and downright unpleasant to drink: with few exceptions, the best were little more than palatable.
Not so anymore: due to a combination of the challenge of selling Brunello in today's market, a new-found faith in the merits of sangiovese on the part of growers, and a generational shift at the helm of numerous Montalcino estates, Rossos have never been better than they are today. In fact, it's no exaggeration to say that many Rosso di Montalcino wines can best some less-than-stellar Brunellos when tasted side by side and blind.
Abbazia di Sant'Antimo in Montalcino

Rosso di Montalcino is viewed by some—a mistake, in my mind—as Brunello's little brother because it is essentially born from the same vineyards, but the wines go through a much shorter period of élévage. Rossos can be released into the market on or after September 1 of the following vintage, and there is no minimum oak aging requirement. Just like Brunello, Rosso di Montalcino is the product of 100% sangiovese grapes grown in the Montalcino territory, almost all of which is in my view rather perversely also allowed to make Brunello—another mistake, in my view. In fact, of Montalcino's 3,500 hectares, 2,100 are allowed to make both Brunello and Rosso, and another 510 can produce only Rosso. The only difference between these two categories of Rosso production has to do with maximum allowable yields: 55 hectoliters per hectare for those Rossos made from land that is also allowed to make Brunello, and 62 for those Rossos made where Brunello cannot be produced.
Rosso di Montalcino, previously known by various different names (another sure-fire sign the wine was long looking for a raison d'être), acquired its own definitive identity and official recognition when it became a DOC wine in 1983. In effect, it's a rather unique entity in the world of Italian wine. This is because for the first time in Italy, producers were allowed to obtain two different DOC wines from the same vineyards: the ageworthy Brunello di Montalcino and the fresher Rosso di Montalcino, a wine of early appeal meant to be drunk sooner but, in typical Montalcino fashion, offering noteworthy structure nevertheless.
In the end, what Rosso you end up getting in the bottle depends very much on what the producer decides it should be. While the majority of Montalcino estates make their Rossos from younger sangiovese vines that could also make Brunello, others specifically set out to make Rosso di Montalcino from vineyards dedicated to this purpose. At some estates, Rosso is aged in oak, albeit for a much shorter time than Brunello (between six months and a year in most cases, compared to Brunello's minimum two-year oak aging requirement). Therefore, some producers choose to make bigger Rossos than others, and they achieve this not just by giving the wines extra time in wood but often longer bottle aging as well, releasing them a year or more later.
At times, Rosso di Montalcino can end up being nothing more (or less) than a declassified Brunello: wines that the producer, after tasting them repeatedly from cask, doesn't think will hold up to the prolonged oak aging that Italian law requires for Brunello. While it may seem that such baby-Brunellos ought to be the best examples of Rosso possible, this is not the case: in fact Rossos made with very little oak aging and from vineyards specifically planted to make Rosso can be remarkably fresh, food-friendly and affordable. Clearly, these juicy, medium-bodied wines are rarely as complex or as deep as the best Brunellos, but they are often a joy to drink and a real revelation for those who have never tried them before.
The Rosso vintage that is currently widely available in the market is 2012, a difficult year for Montalcino in which the harvest was roughly 14% smaller than that of the previous year and about 10% lower than the long-term average. The growing season was characterized by intense summer heat and drought, which came on the heels of a dry winter and spring. Mature vines can deal with prolonged water shortage thanks to their deeper root systems, which can enable them to find some moisture in the soil, but they invariably cut back on fruit production in order to guarantee their survival, by diverting all available nutrients and energy into preserving foliage, the photosynthetic and lifesaving machinery of plants. Young vines fare much worse. Furthermore, water stress leads to metabolic blockage, so that the polyphenols rarely reach full ripeness, a condition easily recognizable in finished wines marred by gritty tannins and unripe, green aromas and flavors.
That said, the remarkable thing about the 2012 Rosso di Montalcino wines is just how successful they are turning out to be. This may not end up being true, by the way, for the 2012 Brunellos, because the latter wines must weather a much longer period of oak aging without drying up in the process. But in my tastings I found many of the 2012 Rossos to be luscious and irresistible. "The harvest has given unexpectedly good results," noted Fabrizio Bindocci, president of the Brunello Consortium. "Despite what everyone said, the hot year brought lots of polyphenols but also very high acidity levels, even 6.3 grams per liter, though I'm not sure why this is. I even called up friends and colleagues to see if they knew why, but they are just as dumbfounded as I am.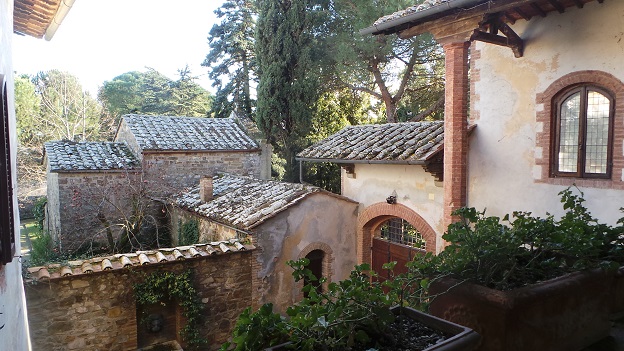 The courtyard at Costanti

Most likely, timely September rains had a very positive effect. While picking began in the last days of August, off-and-on light showers kickstarted the vines' metabolic machinery, and the diurnal temperature variations helped to preserve the freshness and aromatic intensity of the grapes. And in a very clear demonstration of why Montalcino is an outstanding area for quality wine production, rainfall amounted to just a few millimeters at a time in September, while on the same days in nearby Siena (roughly 30 minutes to the north by car), rain activity continued for several hours unabated.
Finally, 2012 is also a good vintage for Moscadello di Montalcino, the area's sweet wine made from the moscato bianco variety (better known as the grape used to make Piedmont's famous Asti and Moscato d'Asti). This notoriously delicate grape (its thin skins can quickly degrade in very rainy years) were able to ripen slowly but surely in the clement fall weather. The 2013 vintage has given even fresher, brighter Moscadello wines.
This report also includes a few late-release 2011 Rossos—another hot vintage but a year in which the onset of heat was more gradual than in 2012. Although the talented Francesco Leanza, owner of the highly regarded Salicutti estate, told me he loves the 2011 vintage, I find the wines to be more irregular than those of 2012. Unlike in 2012, temperatures in 2011 were hot during both day and night, which increased the onset of dehydration in the grapes and made for less perfumed and more angular wines.
--Ian D'Agata
Producers in this Article