Browse using the new Vinous website now. Launch →
Printed by, and for the sole use of . All rights reserved © 2015 Vinous Media
Bottles Never Forgotten - Burgundy Edition

BY NEAL MARTIN | MARCH 5, 2019

I was darting in and out of domaines up and down the Côte d'Or last autumn. You know that by now. One thing you did not know is that before commencing each tasting, I asked every winemaker one question, insisting they need not reply until I was finished. Most of us require time to flick through our Rolodex of vinous memories, though some blurted out their answer as if it were spring-loaded inside. Some replies were brief and rudimentary, yet never perfunctory. Along the way, this clichéd question was a key that unlocked wonderful anecdotes, two or three of them quite poignant. Unsurprisingly, Burgundy featured heavily, accounting for 108 out of 156 answers; Lalou Bize-Leroy and Domaine de la Romanée-Conti were cited six and 16 times, respectively. It would seem that every citizen of Chambolle-Musigny sipped from the same magical 1945, and Saint-Aubin has a penchant for Clos Ste. Hune. Acknowledging their "rival," Bordeaux was represented by 22 wines. (I wonder if it would be the same if I carried out the exercise there.) A common thread is age, proving that bottled history moves the soul. Some are zeniths in terms of quality, others by dint of occasion, company and symbolism. Answers are organized per appellation for you to peruse at leisure. I especially recommend those of David Rebourgeon, Amélie Berthaut, Cyrielle Rousseau, Thibault Liger-Belair, Mathilde Grivot, Marie-Christine Teuillaud, Christine Gruere, Emmanuel Rouget and Hugo Bize.
But what is the question?
"What is the most memorable bottle of wine that you have drunk in your lifetime?"
Marsannay/Fixin
Amélie Berthaut – Domaine Berthaut-Gerbet
"I can tell you right now. It was a 2007 Bâtard-Montrachet from DRC. I tasted it twice. The first time was when my boyfriend and I were working at Domaine de la Romanée-Conti. Bernard Noblet opened it for us. We had one bottle of our own. I came back home one day and I found that my boyfriend had opened it. I was angry. It should have been for a special occasion. He poured the bottle and I found that underneath, he had attached an engagement ring, and that was when he proposed." All was forgiven. Incidentally, after Amélie told me her anecdote, I replied that I did exactly the same with a bottle of 1970 Dom Pérignon, except that my engagement ring fell off when the champagne was cooling in the fridge.
Philippe Brun – Domaine Bruno Clair
"That was a 1990 Montrachet from Domaine Blain-Gagnard. Also a 1921 Musigny from Maison Champy, a bottle that I drank at my home with [former Jadot winemaker] Jacques Lardière about 20 years ago."

Laurent Fournier – Domaine Jean Fournier
"It is a Champagne: Cédric Bouchard's Roses de Jeanne. I drank it with Amélie Berthaut and Sylvain Pataille a couple of years ago. I remember… everyone just stopped."

Sylvain Pataille – Domaine Sylvain Pataille
Sylvain Pataille with his assistant
"It was a 1929 Volnay Champans. I was at the La Paulée de Meursault and had just come back from [working in] Bordeaux. There was no label on the bottle and so I don't know the domaine. I remember this wine because we all thought it came from the 1960s or 1970s. The vines must have been quite young and it was not de-stemmed, certainly whole bunch with partial crushing. It was the beginning of my reflection on what is a good vinification."

Gevrey-Chambertin
Denis Bachelet – Domaine Denis Bachelet
"I don't have a great memory for bottles. But if I had to choose one it would be my 1999 Charmes-Chambertin Vieilles Vignes."

Philippe Charlopin – Domaine Charlopin-Parizot
"It's easy. A magnum of 1978 Richebourg from Henri Jayer."

Philippe reeled off a couple of other Jayers, but I think that will suffice.
Caroline and Nicolas Drouhin – Domaine Drouhin-Laroze
"We opened a 1969 Bonnes-Mares for Easter dinner last year," Caroline Drouhin recalled. "We opened it and the cork exploded. I guess the malo was done in barrel and had continued in bottle. It was so fresh, with good aromatics, plus there was no gas in the wine." Her brother Nicolas added: "I remember a 1949 Latricières-Chambertin that was opened for my mother's birthday and also a 1962 Cheval Blanc. They both tasted so delicate and fresh."

Bertrand Dugat – Domaine Claude Dugat
"The best wine I had? Actually, it was a Bordeaux. It was a magnum of 1959 La Mission Haut-Brion that I drank with my father and an American collector in Beaune."

Loïc Dugat-Py – Domaine Dugat-Py
Before my visit, I chatted with Bernard Dugat-Py and asked him which bottle was his most memorable. He named a Château Rayas, although for the life of me I cannot recall the exact vintage. His son had time to ponder the question during my tasting of 2017s. "I will always remember the 1978 Charmes-Chambertin, which was made by my grandfather and father [Bernard started at the domaine in 1976]. We drank it here. The wine was open and beautifully balanced. For white, it would be a 2005 Montrachet from Domaine de la Romanée-Conti."

Pierre Duroché – Domaine Duroché
"A 1953 Cos d'Estournel that my father opened. It was just the right moment to taste the bottle. And I really like the wines from Engel - there is a lot of emotion in the wines. For the whites I like Riesling. It's like Pinot Noir. I like Klaus-Peter Keller. I also like Ramonet's whites for their balance."

Sylvie Esmonin – Domaine Sylvie Esmonin
"A bottle of 1961 Gevrey-Chambertin Clos Saint-Jacques that my father opened for my 20th birthday, made by my grandfather, Henri Esmonin. It was the first time I had drunk a wine of that age. It was extraordinary. It was a wine of emotion. The second that changed my conception of a vigneron is a 1911 Clos de Vougeot that I tasted in 2001. It was a revelation: the freshness, still with fruit on the nose. It was from a small négociant that has long disappeared."

Simon Mazzini – Domaine Heresztyn-Mazzini
"The best wine I have drunk is the 1988 Krug. It was served by a friend working at the winery and it was just wonderful. Also, a 1950 Clos des Lambrays that was opened by my grandfather to celebrate my grandmother's birthday, as she was born that year."

Arnaud Mortet – Domaine Denis Mortet
"It's difficult, as I've had a lot of wine. But I'll say a 2001 Château Rayas that I drank eight or nine years ago. That was great. Recently I tried a 2007 Mazis-Chambertin from Domaine Leroy that was fantastic, and a 1989 Chambertin Clos-de-Bèze from Rousseau, just three weeks ago. Finally, a 2002 Griotte-Chambertin from Claude Dugat that I had in Tokyo."

I stopped Arnaud Mortet there. Good to see he seems to be drinking well these days!
David Rossignol – Domaine Rossignol-Trapet
"My most memorable bottle is a 1959 Chambertin from my grandfather, Louis Trapet. I tasted it with my father, grandfather and uncle in the 1980s. It was the richness, quite mocha in style and very smooth. There was great amplitude and length. Amazing to think that there was no new oak, just used vats."

Pierre-Jean Roty – Domaine Joseph Roty
Pierre-Jean Roty reels off a number of wines from his domaine, quite rightly singling out a couple in memory of Philippe Roty.

"There are several bottles. The 1969 Charmes-Chambertin from the domaine, which is the birth year of my brother Philippe. The 1985 Charmes-Chambertin is magnificent but still young, and the 2000 Charmes-Chambertin is quite spectacular for the vintage. I like the 2014 Fonteny, which is atypical because it was the only vineyard that was not frosted that year. The last is a 1946 Mazis-Chambertin, vinified by my grandfather Charles Roty, that I drank about a dozen years ago."
Eric and Cyrielle Rousseau – Domaine Armand Rousseau
Cyrielle Rousseau with a winemaker's best friend

I caught Eric in the office just before his daughter Cyrielle escorted me down to the cellar to taste the 2017s. He had no hesitation. "It was a 1937 Romanée-Conti," he said, adding that it was in the company of one Rudy Kurniawan – but would you pour a fake for someone like Eric Rousseau?

The answer that Cyrielle offered during the subsequent tasting was fascinating: "A 1933 Chambertin from Rousseau that was served in a magnum," she explained. "It was opened for my grandmother's birthday. The thing is, the bottle was actually a champagne bottle. They did not have much glass at that time and so my great-grandfather must have used a spare champagne bottle." There followed a funny and un-publishable conversation about the reaction it would provoke if this magnum ever appeared at auction.
Karine Sérafin and Frédérique Bachotet – Domaine Christian Sérafin
"I remember a bottle of 1945 Musigny from de Vogüé," commented Karine. I asked whether it was the same bottle enjoyed by winemakers in Chambolle-Musigny. It was. "Also a 1999 Charmes-Chambertin from the domaine that I shared with my father Christian."

"I love Chablis," proclaimed her cousin Frédérique. "There was a bottle of 2002 from Vincent Dauvissat but I cannot remember the vineyard. Also, I love the 1985s at Sérafin."
Jean-Louis Trapet – Domaine Jean & Jean-Louis Trapet
"Oh, the best wine is a 1904 Latricières-Chambertin from the domaine. We opened it for my grandparents' wedding anniversary in 1998."
Morey-Saint-Denis
Cyprien Arlaud – Domaine de l'Arlaud
"One bottle that I really remember was a 1952 Saumur-Champigny from Clos Rougeard. I'm very focused on the red wines but this white really showed me balance. It probably had lots of sugar and acidity when it was young. It was so fresh."
Boris Champy – Domaine des Lambrays
"That was in California in 2005 when I was working at Dominus. It was a magnum of 1975 Pétrus that I opened for Christian Moueix. It was closed at first but two hours later it was amazing. Also, there was a 1983 Montrachet from Ramonet. It was with Jean-Claude Ramonet and again, it was closed. He asked where were we going after the tasting. We replied that we were having dinner in Dijon. He let us take the bottle to dinner and 45 minutes later it was wonderful."
Jacques Desvauges – Clos de Tart
"It was a 1918 Clos des Lambrays that I drank at M. Boisset's house when I was working at Domaine de la Vougeraie around 2002. It was a shock. I was a young guy who had recently graduated and I didn't know too many things. I still have that memory. The perfume – it was so seductive."
Nicolas Groffier – Domaine Robert Groffier
"It was a 1999 Château Rayas that I drank in Denmark. It was so pleasurable. I bought a case: three bottles gave me a "grand" emotion; six were just okay and three I hated. Also, there was a 2004 Clos Rougeard Brézé that I drank in 2009 and a La Tâche 2004, which was a revelation. Come to mention it, an Haut-Brion 2000. I like wines with character."
Virgile Lignier – Domaine Lignier-Michelot
"The best wine? I think it was a Barolo from Mascarello, the 1983 vintage. I had never encountered a wine that was so perfumed."
Hubert Lignier – Domaine Hubert Lignier
Laurent and Hubert Lignier

Hubert found it difficult to pinpoint a specific wine, even though out of all the respondents, he probably has enjoyed the longest career. He remembered how much he enjoyed the 1964s on release and likewise the 1978s.
Christophe Perrot-Minot – Domaine Perrot-Minot
"It was a bottle of 1917 Chateau Margaux that I drank with four or five customers. There were two bottles. One came from the château and one from the client so we could compare."
Rose-Marie Ponsot – Domaine Ponsot
"It was a 1949 Clos de la Roche."
Alex Seysses – Domaine Dujac
"For the whites, it's a 1996 Montrachet from Domaine de la Romanée-Conti. That was a game-changer for me. I remember Aubert [de Villaine] stopped for lunch and brought us the leftovers. For reds, 1961 Haut-Brion and a 1969 Clos de la Roche, from my father, though I don't like choosing a wine from ourselves. I also remember drinking a 1918 Faiveley when I was 12 years old, but my palate was not what it is today."
Cécile Tremblay – Domaine Cécile Tremblay
"The 2001 Clos de Tart. It's just a beautiful wine. I've drunk it in many restaurants."
Romain Taupenot – Domaine Taupenot-Merme
"It's not necessarily the best wine, but the one that was most enlightening was a 1947 Auxey-Duresses from Domaine Taupenot about 20 years ago. We were celebrating my grandfather's wedding anniversary. There were three bottles and one of them was incredible: pure silk, still primary red fruit but so lively and intense. It was so elegant. For this appellation and vintage, that really delivered."
Chambolle-Musigny
Christian Amiot – Domaine Amiot-Servelle
"The best wine? Well, the most memorable was the 1978 Chambolle-Musigny Les Amoureuses that I bottled with my father. I remember it being so tiring! Then two years ago, I had a wonderful bottle of 1955 Clos de Vougeot that was made by my father-in-law. That would have been labeled under Domaine Servelle-Tachot."
Ghislaine Barthod – Domaine Ghislaine-Barthod
Ghislaine found it difficult to choose a wine but in the end plumped for a 2001 Figeac that made a big impression.
Gilbert Felettig – Domaine Felettig
"I was tasting with other winemakers in Chambolle and there was a 1945 Chambolle-Musigny Premier Cru from Mugnier…" I enquired whether it might have been actual Musigny, since Frédéric had mentioned that wine. Felettig insisted it was a Premier Cru, though he cannot remember the appellation.
Dominique Leguen – Domaine Hudelot-Baillet
"It was a bottle of 1945 Musigny Vieilles Vignes from Domaine J-F Mugnier that was poured during the St. Vincent festival around 2005 or 2006. There were four magnums."

I asked whether it was the same that Frédéric Mugnier mentioned, but it was not. There must be a lot of 1945 Musigny flying around.

"Also a 1959 Chambolle-Musigny Les Cras that was opened by Ghislaine Barthod."
François Millet – Domaine Comte Georges de Vogüé
"It would be a 1945 Musigny Vieilles Vignes from de Vogüé."
Frédéric Mugnier – Domaine J-F Mugnier
Mugnier adopted his trademark pensive expression when posed the question, but the answer was quick in coming.

"A 1945 Musigny from the domaine."

Fair enough.
Christophe Roumier – Domaine Georges Roumier
"My first thought was 1953 Pétrus, but it is not the only great wine. That was some years ago, opened by a customer, and it gave me goosebumps. I have had 1945 La Tâche. That was great. And one day, I was cleaning my grandfather's [Georges Roumier] cellar as I was checking the corks and found a bottle of 1916 Yquem. I told him: Look what you've got. He replied: Then why not open it? The wine was very good, very intense, but drinking it with my grandfather was memorable."
Vosne-Romanée
Charles van Canneyt – Domaine Hudelot-Noëllat
"The best wine? Difficult to say. I'm not a label drinker. But recently I had a 1996 Romanée-Conti. I drank it a couple of years ago and it wasn't that good, then I had it again recently and since then I understand the complexity of this wine."
Sébastien Cathiard – Domaine Sylvain Cathiard
"For the white wine, a 2010 Corton-Charlemagne from Coche-Dury that I drank at home with Dominique Leguen (winemaker at Hudelot-Baillet). Then in 2006 I drank a 1987 Bourgogne Passetoutgrain from Henri Jayer, served blind when I was working at Fromm in New Zealand. I also remember drinking blind a 1990 Vosne-Romanée from Emmanuel Rouget and a 1973 La Mission Haut-Brion and a magnum of 1973 Haut-Brion. I was really impressed by the La Mission."
Thomas Colladot – Domaine Coquard Loison Fleurot
"It was a 1953 Haut-Brion. But it might have been La Mission Haut-Brion. I can't remember."
Mathilde and Etienne Grivot – Domaine Jean Grivot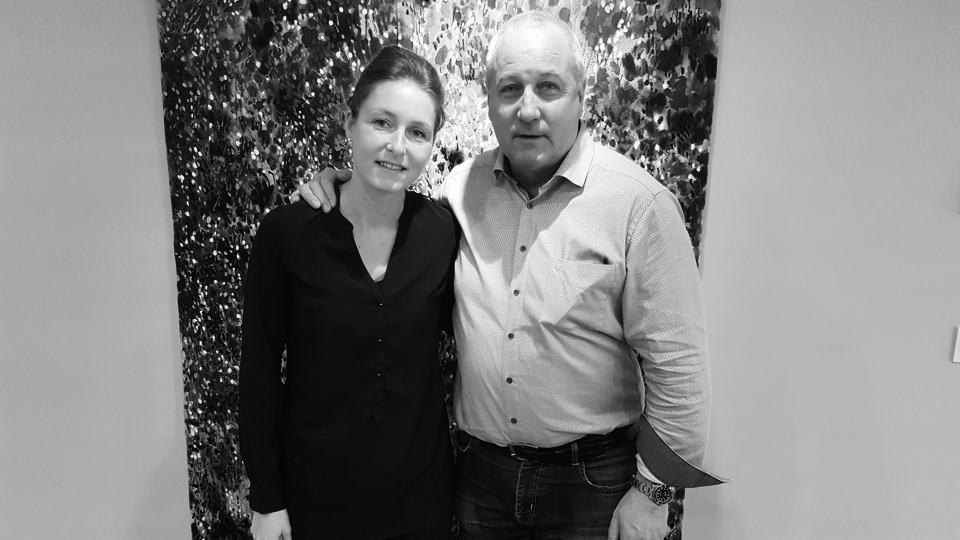 Mathilde and Etienne Grivot in their tasting room

Mathilde pondered her choice throughout my tasting of 2017s. "One of the most memorable that I've tasted was a 1987 Echézeaux from Jacqueline Jayer. At that time, my father [Etienne] was doing a lot of filtration for the market in the United States. However, Jacqueline insisted upon aging the barrels in her own cold cellar and never accepted filtration. It showed me the importance of non-filtered wines in terms of how they age." I then asked the question of Etienne Grivot himself. "Mine would be a Malvoisie Madeira from the end of the 19th century. It motivated me to continue progressing, to be rigorous and passionate. It taught me how wine could be so great."
Julie Gros – Domaine Anne Gros
In her mid-20s, the eldest daughter of Anne Gros probably does not have the wealth of experience of others in this list. Still, she replied: "The 2004 La Tâche. I only tasted it one time. Can I have some more, please?"
Michel Gros – Domaine Michel Gros
"There are two bottles. One was the first wine I tasted, when I was 10 years old. It was 1959 Musigny from de Vogüé. It was at my grandmother's, Marie-Louis Gros. The second was 25 years later, a 1945 Richebourg from Domaine Louis Gros in magnum."
Mark Haisma – Mark Haisma
"It was a 1999 Hermitage Blanc from J-L Chave. I'd been to a restaurant and had the same wine before. Two of the bottles were oxidized. Then I thought to myself, surely a third bottle will be all right, and it completely blew me away."
Charles Lachaux – Domaine Arnoux-Lachaux
Given that Charles Lachaux's mentor is Lalou Bize-Leroy, it was no surprise that he chose one of her wines. "The biggest emotion was when I drank a 2006 Savigny-lès-Beaune Les Nanbartons from Domaine Leroy that was poured blind. Friends opened it because they wanted me to discover Lalou. Also, recently, I had a 1975 Romanée-Conti that was so delicate and layered. It was just so giving."
Nicole Lamarche – Domaine François Lamarche
"I remember a 1959 La Grande Rue that I drank last year with friends. We didn't know whether it would be good, but it was a huge surprise. That was here at the domaine."
Louis-Michel Liger-Belair – Domaine du Comte Liger-Belair
"Maybe it's a 1928 La Tâche from Liger-Belair [it did not become a monopole until the following decade]. That was my father's birth-year. It came from Rudy Kurniawan, and here is the bottle…" Louis-Michel fetched said bottle from a line of empties displayed on a shelf.

"I'm not sure if it's real. But he invited my family to drink it, so maybe."
Jean-Nicolas Méo – Domaine Méo-Camuzet
"There are a lot of bottles I could choose. I loved the 1964 Corton-Rognets from the domaine that I drank at my wedding. It always ages beautifully. I also had two rare bottles from the family: the 1947 and 1949 Vosne-Romanée under "Méo-Lamarche." My grandfather married into the Lamarche family on my grandmother's side. Her father was killed in World War I and she sold nearly all her vineyards except some parcels around the house, which is where they came from. Lately, a 2004 Richebourg from the domaine. When Richebourg is 'there,' nothing can beat it. That was at a dinner in Hong Kong. I thought it would pale against a 2003 Echézeaux poured before it, but it had extreme complexity and finesse. There was also a great wine, a 1915 Nuits Saint-Georges Les Cailles from Morin served by François Audouze. It was really stunning. It seemed so young."
Pascal Mugneret – Domaine Gérard Mugneret
"The 2008 Vosne-Romanée from Domaine Leroy. It was just an incredible wine. The texture. When the bottle was opened I compared it to our Nuits Saint-Georges Les Boudots and I said that our Boudots could match it. Thirty minutes after and there was no comparison. The Leroy was more than a three- or four- dimensional wine. It was so complex. Another is 1945 La Tâche. It was served blind at the domaine. I thought it was 15 years old. That kind of wine makes you want to do this job. It was so young. What is the secret of the wine that is able to age with fruit and flower aromas?"
Emmanuel Rouget – Domaine Emmanuel Rouget
Emmanuel Rouget
Though Rouget's answer was perhaps predictable given that he is the nephew of Henri Jayer, the time and occasion made me chuckle. "It was a 1959 Richebourg that was opened by Henri Jayer. It was 9:30 in the morning. In those days everyone would work from very early in the morning. We were having a small picnic." Next time you have a picnic, ask yourself if you are drinking as well as Henri and Emmanuel did that day.
Jean-Louis Sirugue – Domaine Robert Sirugue
"It was a 1966 Vosne-Romanée Malconsorts from Thomas Moillard, just a half-bottle with a low ullage. But you closed your eyes and it was marvelous. Those wines were made to age."

Marie-France Sirugue chose 1990 Château Rayas.
Guillaume Tardy – Domaine Jean Tardy
"My best wine… I think it was a 2000 Hermitage La Chapelle from Paul Jaboulet and also a 2002 Musigny from J-F Mugnier."
Marie-Christine Teuillaud – Domaine Mugneret-Gibourg
"The most memorable is a 1929 Clos Vougeot. It was my father's, Georges Mugneret's, vintage, a famous one. He was very lucky. His grandfather gave him one barrel, a different parcel than the one we own nowadays. Back then, Clos Vougeot was not so famous. He bottled that barrel in magnums and jeroboams. In 2014 there was a family party at the restaurant Lavenois and we decided to open the final jeroboam with my mother, children and grandchildren. It was fabulous. When the sommelier opened it, we waited half an hour. I think for very old wines, Clos Vougeot was even better than Echézeaux."
Bertrand de Villaine – Domaine de la Romanée-Conti
"Most memorable wine? That's one we had together. The 1942 Richebourg Vieilles Vignes." I agree. Whilst not the greatest wine I have ever drunk, it is certainly etched into my memory forever (see Cellar Favorites.)
Nuits Saint-Georges
Denis Chevillon – Domaine Robert Chevillon
"The best wine? Well, it must be a 2007 Musigny from Domaine Leroy," Chevillon told me in the courtyard, whipping out his mobile phone to show me a photograph just in case I didn't believe him. "I drank it with a Russian client. In fact, he ordered two bottles because he was not happy with the first!"
Yvan Dufouleur – Domaine Guy & Yvan Dufouleur
"It was a magnum of 2000 Bâtard Montrachet de Fontaine-Gagnard three years ago. Also Yquem 1996, opened for the New Year two years ago. Also I remember a 1953 Romanée-Conti – it is those "smaller" vintages where you can really tell the greatness."
Erwan Faiveley – Domaine Faiveley
"It was a bottle that I drank in 2007 or 2008, the 1962 Chambertin Clos de Bèze from Joseph Drouhin. That was the greatest by far. We were having dinner with Véronique Drouhin and other winemakers and she brought it along."
Géraldine Godot – Domaine de l'Arlot
"It was a Crozes-Hermitage from Graillot. I can't remember the vintage but it was before 2008. That is where I discovered Syrah."

I will reveal Christian Seely's response in a forthcoming Pichon Baron article, but it involves a Port and a sleazy hotel.
Grégory Gouges – Domaine Henri Gouges
"I have two best wines. Firstly, a 1945 Nuits Saint-Georges Les Saint Georges from the domaine, which I think is the best Pinot Noir I've tasted. I can't remember the occasion, but I can remember the bottle. The other bottle I remember is very old Sauternes, 1928 Château Caillou from Monbazillac."
Thibault Liger-Belair – Domaine Thibault Liger-Belair
Thibault Liger-Belair
"Before I was a winemaker, my first job was to work for FICOFI. I was in my 20s. I organized a tasting where Aubert de Villaine was invited to show the 1991 vintage of all the wines from Domaine de la Romanée-Conti. I had never tasted them before because I had been studying up until then. Aubert said, 'Since you are the only Burgundian in the room, you have to organize the tasting with me,' and then he told me to taste all 50 bottles of different wines, from Echézeaux to La Tâche. It was brilliant. Sometimes we say that a special moment must be shared, but on this occasion, it was special because I was on my own and I knew it would never happen again. It took one hour and I was on cloud nine. It was so interesting to see the difference. I always smile when I remember this moment."
François Lécaillon - Domaine de la Vougeraie
"Mine is a 1996 Château Latour that I drank when I was working in the cellar there."
Sylvie Poillot (General Director) – Domaine de la Vougeraie
"It was a wine with Jasper Morris at a La Paulée - Vega Sicilia Unico 1987."
Maxime Rion – Domaine Michèle & Patrice Rion
"It was a bottle I drank when I was younger, with my father. It was a 1990 Nuits Saint-Georges Les Haut Pruliers from Daniel Rion drunk during my initiation at the domaine!"
Savigny-lès-Beaune/Ladoix/Aloxe-Corton
Hugo Bize - Domaine Simon Bize
Hugo Bize
"I don't drink. I've never drunk alcohol." Cue incredulous look from yours truly. He must be kidding, right? But Hugo was clearly telling the truth.

"No. I'm only 19 years old… nearly 20. But I don't like the taste of alcohol. I just find it bitter."

"What does you mother think about that? Is she concerned? I mean, your parents are both winemakers," I replied.

"She's not worried. She said hopefully, one day, I'll like the taste of wine."

And you know, Hugo has a point, because until I was in my mid-20s, I had zero interest in wine and could not really comprehend how anyone could like it. Things have changed since then.
Christine Gruere – Domaine Dubreuil-Fontaine
Christine Gruere
"It's difficult to say," Christine Gruere replied. "But 1947 Pommard Epenots from my grandfather on my mother's side of the family is a special wine. He was a winemaker and it's where the domaine's Pommard holdings originate. I've tried it several times because he thought it was so special. In fact, we kept around 600 bottles, and I taste it every now and then. We even served it for our wedding. It would have been under the Bidot-Bourgogne label. That was a rich and hot vintage and most of the 1947s turned to vinegar because winemakers could not control the temperature. But my grandfather had this great idea. When he was picking the grapes, he sprayed water over them and left them outside overnight, putting them in the vat in the morning. It kept the grapes cool and there is no volatility in the wine."
Thibault Jacquet - Domaine Bonneau du Martray
"The best wine? It was a Soldera. I didn't know anything about the winery at the time." Winemaker Emmanuel Hautus added: "I cannot remember the exact vintage, but it was something from the 1940s by a Champagne house, Godmé Père & Fils."
Michel Mallard – Domaine Michel Mallard/Domaine d'Eugénie
"Naturally, I'm not an old wine lover [Mallard is not referring to himself in that statement], but one that surprised me is the 1965 Romanée-Conti. I just went 'wow'. I was not expecting that and so it stays in my memory. Not the best wine, but I will always remember it."

Having tasted it myself, I can vouchsafe that the 1965 is extraordinary.
Freddy Meuneveaux - Domaine Meuneveaux
"It would have to be a 2003 Aloxe-Corton that was served at my wedding."
François de Nicolay – Domaine Chandon de Briaille
"In my mind, the best white wine that I've drunk is a 1982 Bâtard-Montrachet from Pierre Morey. I drank it with him in 2002 at the Banné de Meursault. For 20-year-old wine, it was extraordinary. For red wine? It is the 1959 Corton-Bressandes from the domaine, just for the black truffle aromas."
Hugues Pavelot – Domaine Jean-Marc Pavelot
"It's difficult to choose a red. Maybe the 2006 Nuits Saint-Georges Les Terres Blanche from Patrice & Michel Rion? I also like the wines of David Moreau in Santenay. Also, I love a Corsican wine… [here Hugues disappeared to find the bottle] …Domaine Guidicelli 2014. I love the persistency."
Nathalie Tollot - Domaine Tollot-Beaut
"The best wine I've had is an old Massandra from the Imperial Palace. I can't remember the vintage, but it was opened by an English collector who has bought our wines since the 1980s."
Beaune
Frédéric Barnier – Louis Jadot
Jadot's chief winemaker chose an ancient bottle that, coincidentally, I had also tasted. "There are many ways to answer that question. In terms of the wine, it's Burgundy, since I don't drink so many wines from outside the region. A 1904 Beaune Clos des Couchereaux, which was one of the first Premier Crus that Jadot ever produced. The youth, the brightness was incredible. That was a special bottle of old wine."

I actually drank this same bottle a few years ago. It was very fine, though perhaps it did not move me with such magnitude.
Albéric Bichot – Albert Bichot
"Châteauneuf-du-Pape Cuvée de Celestine 1998. At the beginning, I couldn't work it out. Then I just had to open my mind and it became marvelous. It was extraordinary. Psychologically, it was a milestone."
David Croix – Domaine des Croix
"The best wine? It was a 1971 Ridge Montebello that I had in California. I could not move when I drank it. The other is 1999 La Tâche when I tasted it out of barrel. It was when I was doing my internship with Benjamin Leroux. It was during a six- or seven-hour visit with Aubert de Villaine. I remember thinking at the moment: that is a perfect wine from barrel. I tasted it again in bottle and I have to say, it was not as breathtaking."

I reassured him that the 1999 La Tâche is a monumental wine, one that Aubert de Villaine himself regards as among the finest he has ever made.
Thibault Gagey – Louis Jadot
"Lately I had a great bottle of Bordeaux from my grandfather's cellar, the 1959 Mouton-Rothschild. The bottle had just moved once."
Benjamin Leroux – Benjamin Leroux
"It's probably a 1985 Griotte-Chambertin from Drouhin and also a 1985 Chambolle-Musigny Les Amoureuses from Domaine Roumier, back in 1992. They were the first wines that told me that winemaking is what I want to do."
Thibaut Marion – Domaine Seguin-Manuel
"It was a 1918 Musigny from Seguin-Manuel that we had in London." [I too was a participant at this memorable tasting of Seguin-Manuel's wines from the turn of the century.] "Also, I remember an 1890 Clos des Lambrays from my great-grandfather's cellar that had never moved. At that time his family were the owners of Chanson and they bottled the wine."
Frédéric Weber – Bouchard Père & Fils
"For me, it's easy. The 1949 Beaune Grèves Vignes Enfant Jesus served at the domaine during a dinner. It was pure emotion."
Volnay/Pommard
Guillaume d'Angerville – Domaine Marquis d'Angerville
"My best wine I would still say is 1947 Chambolle Les Amoureuses from Roumier that Christophe shared once. But the 1964 Clos des Ducs is one of my most memorable. Of course, I'm biased there! But the 1964s in Volnay were just incredible."
Jean-Marc Bouley – Domaine Jean-Marc Bouley
"My first great wine was DRC's 1959 Richebourg, in New York. That was in 2004. I was impressed by its age. The nose was amazing and the palate silky-smooth, velvety in the mouth. The next day I had the 1966 Volnay 60 Ouvrées from Domaine de la Pousse d'Or. It was so clear, almost pink and bright, with no browning. It had amazing length. Also, I want to mention the 2006 Savigny-lès-Beaune Nanbartons from Domaine Leroy two years ago, for its balance and density. It was big but so fine - I've never seen those in the same wine. Everyone became silent when we drank it. As for white, it is Domaine d'Auvenay's 2008 Bourgogne Aligoté. My friend opened it the night before and decanted it in the morning and we were drinking it at 2pm. It just got better and better in the glass."
Jean-Pierre Charlot – Domaine Joseph Voillot
Jean-Pierre Charlot with his nephew Etienne

"My favorite wine was a Château d'Yquem. It was so complex. Magic. That was when I visited Bordeaux in 1975 during my studies. I can't remember the vintage, but that was my first big emotion. Among the domaine's own wines, it would be a 1934 Volnay Champans."
Thierry Glantenay – Domaine Bernard & Thierry Glantenay
"The best wine that I've drunk is the 1998 Unico from Vega Sicilia with other winemakers."
Frédéric Lafarge – Domaine Michel Lafarge
"My most memorable bottle was made by my great-grandfather, a 1915 Volnay Clos des Château des Ducs that I drank in 2008. It was magical," Frédéric Lafarge told me. His daughter Clothilde added, "Mine is a 1928 Volnay Clos des Chênes that I tasted three years ago with my grandfather [Michel Lafarge] and father. It's from my grandfather's birth-year."
Mathias Parent – Domaine AF Gros
"It was a 1979 Richebourg from Domaine de la Romanée-Conti that I drank with friends of my parents. It was just so complete."
Caroline Parent-Gros – Domaine AF Gros
"I have a strange one. It was a vins liquoreux called Sangue d'Oro that's owned by the actress Carole Bouquet."
Anne Parent – Domaine Anne Parent
"My most memorable bottle was a 1983 Clos Vougeot from Dr. Georges Mugneret in magnum in Switzerland. My father was with me and it was a blind tasting. This [wine] gave me a special feeling. I thought: 'That's it!' My father and Dr. Mugneret were good friends – he was a special man, so talented that he could be a doctor and a winemaker. That is a special skill. The second wine I have fond memories of is a 1998 Ornellaia that I drank in London in an Italian restaurant, Il Convivio. That was the standout wine. Thirdly, Lynch-Bages 1982."
David Rebourgeon - Domaine Rebourgeon-Mure
If there was a single story that made this entire exercise worthwhile, it was David Rebourgeon's.

"The best bottle… I don't know if it's the best bottle, but the most memorable was a 1938 Pommard Les Grands Epenots."

I enquired about the vintage. Did I mishear? Surely he means 1937, a reputed Burgundy vintage. Nothing good came of 1938, did it?

"It was 1938 and it would have been bottled under the Domaine Rebourgeon Millotte. One day my father was pushing his wheelbarrow through the vineyard and it hit something. He found bottles of 1938 buried in the ground. My grandparents had buried them during the war. So we opened one of them to celebrate their 60th wedding anniversary."
Nicolas Rossignol – Domaine Nicolas Rossignol
"I'll tell you the wine that was so memorable. It was 1999 Musigny Vieilles Vignes from de Vogüé. I had it a couple of years ago and it is still incredible. I had never become that… emotional. Also, I was in Japan recently. We were drinking different wine regions each night and I knew this guy had some Leroy. The first day was a vertical of Haut-Brion that finished with 1982 Pétrus." [I don't know why a Haut-Brion vertical would finish with that wine, but would you complain?] "Then the next night he opened 13 bottles of Leroy, and at the end he opened a 2002 Romanée-Saint-Vivant." At this point, he drew a long intake of breath, a bit like Pacino's "woo hah" in the film Scent of a Woman.
Paul Zanetti – Domaine Comte Armand
After much deliberation during the tasting: "It has to be a 1992 Montrachet from Domaine des Comte Lafon that I drank last Christmas with my family."
Meursault/Puligny-Montrachet/Chassagne-Montrachet/Saint-Aubin
Jean-Baptiste Bachelet – Domaine Jean-Claude Bachelet
"The best wine I've drunk is the 2007 Clos Ste. Hune from Trimbach. But it's always the best wine that you share with people. I had it on New Year's Day with friends."
Guillaume Boillot – Domaine Henri Boillot
"The best wine I've drunk is from the Loire, the Clos Rougeard Le Boute. Also, I remember drinking 2005 La Tâche."
Sébastien Caillat – Domaine Lamy-Caillat
"I'll give you two, a white and a red. For the white, it's a 1989 Montrachet from René Lamy. That is a bottle that I will always remember. For the red, it's a 1997 Volnay Santenots from Domaine des Comtes-Lafon that I drank with an American friend sometime between 2002 and 2004. If I can have a third, a 1990 d'Yquem that I also drank two or three times."
Jean-Michel Chartron – Domaine Jean Chartron
"My favourite wine is definitely a 1990 Chambolle-Musigny Les Amoureuses from Drouhin."
Romaric Chavy – Domaine Chavy-Chouet
"My best wine? Well, my family used to own more vines in Pommard. My great-grandmother was a widow and she couldn't do everything, so she sold part of the vineyards, including Pommard les Rugiens. I knew there was a cellar that nobody had seen for a long time, and one day she asked me to empty it. I found a bottle of 1947 Pommard Les Rugiens that was then under the 'Baulaz' label. He was actually an old régisseur at Domaine Comte Armand. I took it home and the levels were good. That is certainly my most memorable bottle."
Damien Colin – Domaine Marc Colin
"My best bottles are firstly, with my wife 10 years ago, a 1989 Clos Ste. Hune in magnum..." I remarked that his neighbor, Jean-Baptiste Bachelet, replied with the same wine but a different vintage. Maybe all winemakers in the village of Gamay have a penchant for Clos Ste. Hune?

"The second is a 1944 with my father, for his birthday, Yquem. The wine was amazing. It was the first wine from his birth-year that he had ever tasted."
Alain Chavy – Domaine Alain Chavy
Alain Chavy was the first person to answer my question about the best wine, and his answer was refreshingly surprising.

"It's a 2008 Chardonnay from Israel that I drank for Christmas three or four years ago, from Shoresh."
Nadine Gublin – Domaine Jacques Prieur
"I was so surprised by the freshness and the youth of the 1947 Figeac that I tasted four or five years ago. It was incredible. It was poured blind. The colour, the nose… Everybody around the table thought it was from the 1990s."
Anne-Morey – Domaine Pierre Morey
After a very long period of reflection and flustering…

"My best wine is the next."

I replied that I would allow her this reply only because she was the first winemaker to dodge the question this way and that she will be the only one.
You Might Also Enjoy

Caught Somewhere in Time: Clos de Tart 1887-2016, Neal Martin, February 2019

The Picardy Third: 2016 Domaine de la Romanée-Conti In Bottle, Neal Martin, February 2019

Vertical Tasting of Louis Jadot's Corton Pougets, Stephen Tanzer, February 2019

Château de la Tour Clos-Vougeot Vieilles Vignes 1985-2016, Stephen Tanzer, January 2019

2017 Burgundy: A Modern Classic, Neal Martin, January 2019