Browse using the new Vinous website now. Launch →
Printed by, and for the sole use of . All rights reserved © 2015 Vinous Media
Taylor's 1964 and 1965 Very Old Single Harvest Port
Taylor's 1965 and 1964 Very Old Single Harvest Ports are a half-century old but the 1965 was just released and the 1964 is still available on retail shelves. If you're looking for a 50th-birthday gift for a relative, friend or business associate born in 1965—a year that was literally a washout for claret and red Burgundy—you probably can't do much better than the newest release from Taylor.
Taylor has one of the deepest reserves of very old cask-aged Ports and launched this new project beginning with the 1964 in January of 2014. These are rare ports from a single harvest that are aged in casks until being bottled and released. The decades of aging in wood have resulted in an essence of port through controlled oxidation and steady evaporation that has concentrated the wine.
One of the reasons I find these two wines so fascinating is that they have very different profiles—unlike, say, Taylor's 40-year-old tawny, which is a blend of vintages made to maintain a consistent house style.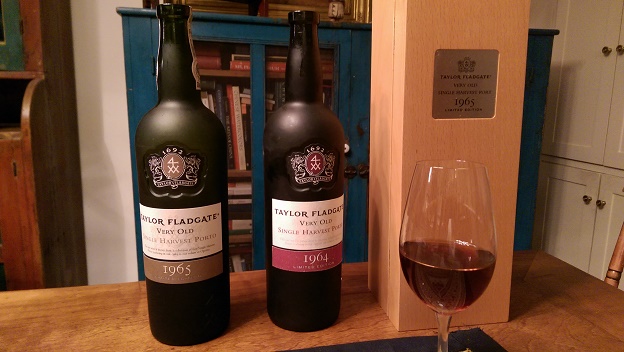 I give the 1964 Very Old Single Harvest Port the edge today over the 1965, as it's closer to my paradigm of great tawny port, but the '65 is equally distinctive, and perhaps younger. With a green-edged old mahogany color, the '64 offers ineffable scents of almond, brown spices, mocha, cedar and medicinal herbs lifted by a high-pitched note of orange peel. It's at once glyceral-rich and brisk in the mouth, with a firm edge of acidity giving real bite and lift to the superripe flavors of mocha, toffee, molasses and citrus zest. This port is carrying a relatively high 21% alcohol as well as 112 grams per liter of residual sugar and rather low acidity, but the wine's plush, extremely long finish displays serious energy and grip. 95
The 1965, a degree lower in alcohol, is a tad darker (amber-mahogany) but less lucid in color, offering scents of marzipan, cinnamon, fig, and caramel, with a surprisingly fresh note of cherry emerging with aeration. The wine is more youthful and primary in the mouth than the '64, more powerful today for all its silkiness.It's technically much higher in residual sugar AND in acidity than the 1964 and a bit more aggressively youthful. Today it's a less mellow, slightly more peppery drink and yet there's already a wonderfully silky texture and a slowly mounting whiplash of a finish. These wines are meant to be ready to drink upon release, but I certainly wouldn't be in a rush to uncork the 1965. 93+
There are two great advantages to very old wood-aged ports. First, they have aged forever in barrel, with multiple rackings, so when they're bottled they leave their sediment behind in the cask. You can just uncork and pour them, unlike with a (bottle-aged) vintage Port that has thrown a huge deposit in the bottle and requires careful decanting. And because these old tawnies have essentially been exposed to controlled oxidation and seasoned barrels for 50 years, they're hard to kill. Once you open a bottle, it should remain fresh—indeed, show increasing nuance—for at least a couple weeks in a refrigerator, if not more. My bottles were considerably more complex the next day, but they were so seductive I could not make them last longer than a week, even in the name of science
You can serve great old tawnies with nuts or a nut tart or crème brûlée after a meal, but I prefer drinking them on their own, slightly chilled, with good company.
These wines are officially priced at close to $300, but I've seen them listed for as little as $250.
--Stephen Tanzer