Browse using the new Vinous website now. Launch →
Printed by, and for the sole use of . All rights reserved © 2015 Vinous Media
At the Hotel Bellevue Syrène
Piazza della Vittoria, 5
80067 Sorrento, Italy
Tel. +39 0818781024
BY IAN D'AGATA | SEPTEMBER 15, 2016
The food:
Pizza Margherita
Friselle with tomatos and basil (Friselle pomodoro e basilico)
Paccheri with tomatoes and basil (Paccheri con pomodorini e basilico)
Club Sandwich
Ice cream and sorbets (Gelati e sorbetti)
The wines:
| | |
| --- | --- |
| 2015 San Salvatore Fiano Paestum Trentenare | 90 |
| 2015 Vadiaperti Fiano di Avellino Aipierti | 91+ |
The entrance of the Hotel Bellevue Syrène, view of the Sorrento Gulf from the restaurant
If a more beautiful place exists anywhere else in Italy than Sorrento's La Pergola Restaurant Bar, I am not aware of it. Housed in the Bellevue Syrène hotel, a member of the prestigious Relais & Chateaux chain, perched atop the cliffs overlooking the Bay of Sorrento (a handy elevator takes you right down to the beach and your lounge chair, should you so desire), the La Pergola Restaurant Bar is sits alongside the long, beautiful and canopied entrance to the hotel.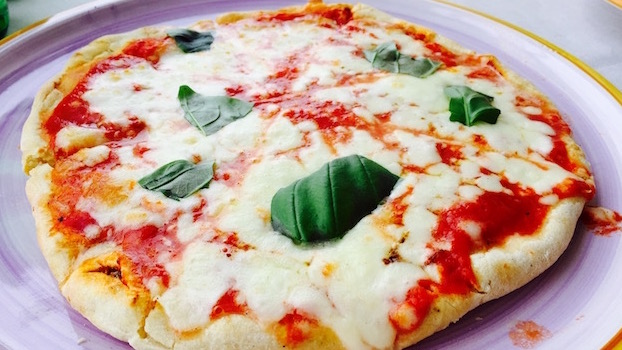 Pizza Margherita
The place is almost impossibly beautiful, and gives the words "postcard-pretty" true meaning. Everything from the lovely table settings to the magnificent view of the incredibly intense baby-blue sea and sky before you is unforgettable. The food and wine are delicious as well, with the lunch menu at La Pergola appropriately simple and straightforward. Everything is cooked perfectly and the wine-list is excellent, with many outstanding and fairly priced choices, especially from Campania. Last but not least, service is highly professional and friendly.
Paccheri with tomatoes and basil
I make a point of always eating lunch here when I am in town. I heartily suggest you do the same when you next visit Sorrento. On this day, I had two especially outstanding dishes: a memorable pizza Margherita made with fresh tomato and mozzarella cheese (admittedly, on one recent occasion this pizza wasn't as good as it usually is, slightly undercooked and gummy), and the memorable paccheri, perfectly al dente with a tomato sauce so perfumed and penetrating I can still taste it today.
Club Sandwich
For such a simple, flavorful meal of specialties typical of the Sorrento coast, I opted for two lovely local wines. The 2015 San Salvatore Fiano Paestum Trentenare proved once again enjoyable, effusively fruity and bright, with soft but juicy flavors of peach, nectarine and fresh citrus fruits, complicated by delicately herbal nuances. The more serious 2015 Vadiaperti Fiano di Avellino Aipierti was more powerful and long, intensely mineral and pure, offering lingering aromas and flavors of white stone fruit, liquid rocks and hazelnut. The two were a wonderful compliment to a marvelous sunlit day and lunch I won't soon forget.