Browse using the new Vinous website now. Launch →
Printed by, and for the sole use of . All rights reserved © 2015 Vinous Media
Vicolo Cavour, 5
12065 Fraz. Perno – Monforte d'Alba (CN), IT
Tel. +39 (0173) 78-492'
BY IAN D'AGATA | MARCH 29, 2018
The Food:
Capunet of cabbage, salt cod and potato (Capunet di cavolo verza, baccalà e patate)
Cotechino with polenta and alpine raschera cheese fondue (Cotechino con polenta e fonduta di raschera d'alpeggio)
Capon and chestnut terrine (Terrina di cappone e castagne)
Potato's chicche pasta with Vacche Rosse breed cow parmigiano cheese sauce (Chicche di patate con crema di parmigiano "vacche rosse")
Lasagne al forno
"Elipomata" snails in their broth with aioli and potato (Lumache "eli pomatia" nel loro brodo, aiolì e patate)
The Wines:
| | |
| --- | --- |
| 2002 Krug Blanc de Blancs Clos du Mesnil | 95 |
| 2002 Dom Perignon Rosé | 97+ |
| 1971 Metz Frères Gewürztraminer Alsace | 94 |
| 2015 Guy Robin Chablis Les Clos Grand Cru | 92+ |
| 2014 Element Winery Chardonnay Finger Lakes | 92 |
| 2011 Element Winery Riesling Finger Lakes | 93 |
| 2007 Joseph Drouhin Montrachet Marquis de Laguiche Grand Cru | 97 |
| 2007 Domaine Trapet Père et Fils Chambertin Grand Cru | 94 |
| 2000 Chateau Branaire Saint Julien Grand Cru Classé | 92 |
Repubblica di Perno, a favorite of locals and visitors alike, is a sure bet when it comes to good traditional Piedmontese cooking in the Langhe, with a fine choice of local and non-local fine wines to match.
Capunet of cabbage, salt cod and potato

It's impossible not to like eating at Repubblica di Perno, a lovely restaurant near Monforte in the heart of the Barolo production zone that boasts very solid food and wines. Soon enough La Repubblica will also offer three rooms to stay in. Owners Elena Miori and Marco Forneris have created a real jewel that is about as sure an address for a great evening in the Langhe as I can think of. There are no bells and whistles, no foams and mousses, no weird faddish ingredients, just solid cooking and precise aromas and flavors that speak of the high-quality ingredients, the places they come from and noteworthy culinary skill in allowing those ingredients to shine. That La Repubblica di Perno has achieved such success should not come as a surprise to anyone. Miori ran the Locanda del Centro in Castiglione Falletto for six years, while Forneris trained in numerous fine dining spots all over Italy and Europe, including Le Jardin de Gourmets (in Great Britain), La Rejas di Manolo de la Osa (in Spain), La Bonne Etape in Antibes in France, and Il Sole a Maleo, L'Osteria del Teatro and il Volto (all in Italy). Most importantly, Forneris founded and operated La Libera in Alba for 16 years, the time when that restaurant really was a must-stop dining destination.
La Repubblica di Perno opened in June 2014. The place is small and only seats about twenty people. The second floor has one table where larger parties, of about a dozen or so, can dine in peace, if they so desire. Dishes are solidly anchored in tradition, at times revisited and slightly tweaked but never excessively so. In fact, my latest meal proved it, and then some.
I simply cannot pick a dish I liked more on this night, as everything was just top notch. If really pushed, I might single out the capunet, a delicate and delicious vegetable dish that was intense and flavorful, and the cotechino, a fatty sausage that Italians eat in incredibly large amounts especially around the Christmas holiday season and that can often be too fatty and difficult to digest. Obviously, Miori and Forneris have done their homework, and collaborate with a butcher who cares, because their cotechino was excellent. My only complaint is that the portion was too small, I could have easily eaten twice as much!
Cotechino with polenta and alpine raschera cheese fondue

The outstanding food and company were well matched by the fantastic wines we shared on this night. Except for the Guy Robin Chablis that is available on the restaurant's wine list, all the wines were sourced either from my cellar or those of two generous friends. You might wonder at my list of wines, which does not include a single Barolo. Of course, La Repubblica's wine list offers quite a range of mostly younger vintages of Barolo and Barbaresco, so wine lovers will certainly find a local red they will enjoy. However, on this night I invited to six local friends who get their fill of Barolo and other Piedmontese reds every day of the week. Before you jump on me here, I know, yes, I know, there really can be no such thing! And so, this evening was specifically created to match wines from other necks of the woods to Piedmontese food staples.
Admittedly, it is hard to start off a meal, any meal, with two better bubbles than the 2002 Krug Blanc de Blancs Clos du Mesnil and the 2002 Dom Perignon Rosé. Not by chance both from my favorite recent Champagne vintage, the former is a work of art, at once delicate yet powerful, the latter deep and chewy yet amazingly refined. The Clos du Mesnil is tropical and more approachable than usual, while the Dom Perignon Rosé is still very taut and shut down, hinting at yet more complexity and fun to come with proper cellaring. The bottom line is two Champagnes of this quality level are hard to match.
Capon and chestnut terrine

Vinous readers know I love Alsace whites, and the older vintages of that region are almost an obsession for me, accounting for 25% of my cellar. The 1971 Metz Frères Gewürztraminer Alsace, from my favorite Alsace vintage of the last fifty years, is still drinking beautifully. It makes a wonderful aperitif, as old age has toned down some of the variety's more exuberant characteristics, and the wine though still rich and spicy, is at once aromatic yet refined. Very well balanced, it matches remarkably well with the capunet and the terrina, but even better with the cotechino, as Gewürz has a real knack for standing up to rich pork dishes. My Piedmontese friends, all of whom are die-hard Riesling lovers, came away very impressed with just how food-friendly an older Gewürz is. This specific bottle also provided proof of just how enjoyable and memorable the wines of some little known but high-quality producers such as Metz can be. Chablis is one of my favorite white wines. The still very young 2015 Guy Robin Chablis Les Clos Grand Cru promises to deliver considerable future excitement. Although very good already, it is still a little folded onto itself but hints at noteworthy depths of lemony and waxy white stone fruit concentration. It's a delicious, refined Chardonnay from a cool climate, much like the truly impressive 2014 Element Winery Chardonnay. This is one of the best New York state wines I have ever had, and an outstanding example of what the Finger Lakes can deliver. Lemony and mineral, with notable purity, this Chardonnay is the sort of cool-climate wine that regions such as New York's Finger Lakes and the Niagara region in Ontario, Canada, often excel at. However, as good as the Chardonnay was, the Finger Lakes Riesling that followed was even better. The 2011 Element Winery Riesling is a knockout, with layers of complexity and leesy richness of a level uncommon in the area. This still-young 2011 Riesling is just delightful. Another gem followed the two very impressive New York state wines. As far as great wines go, it should be theoretically impossible to beat a Montrachet; and yet this hallowed vineyard is often the source of disappointment when less than talented producers are involved. Clearly, this is not the case with the truly amazing 2007 Joseph Drouhin Montrachet Marquis de Laguiche, a vinous work of art. Still incredibly young, the 2007 offers a tight core of remarkably pure pomaceous orchard fruit, lemony minerality and a hint of waxy butteriness that is hard to forget. An infant but already splendid, the 2007 is going to develop into something even more memorable than it already is.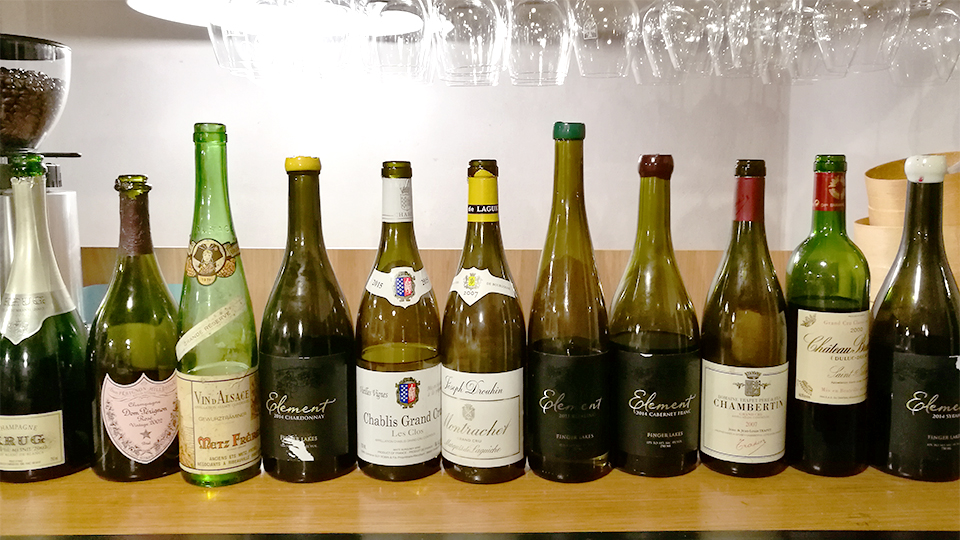 After that series of outstanding whites, you could not be blamed for worrying that the reds that followed might have had too hard an act to follow. Not so. Both the 2007 Domaine Trapet Père et Fils Chambertin and the 2000 Château Branaire Grand Cru Classé (now Branaire-Ducru, but back in 2000 still called just Branaire) showcased the greatness of Burgundy and Bordeaux. The former is delicate and refined, but offers sneaky concentration to the almost weightless flavors of minerally red berries and smoke; the latter is rich and ample in the style of the vintage, but with Branaire's (and Saint Julien's) natural grace, balance and charm keeping it from being over the top.
All in all, this was another magical night in which fine wines, great food, and friendships combined to make for lasting memories.
Producers in this Article